The Rock Island Rail Corridor is a 17.7 mile out of service railroad corridor acquired by Jackson County in April of 2016 in partnership with the Kansas City Area Transportation Authority. There are three main components of the Rock Island Rail Corridor Project: Trail, Transit and Economic Development.
The trail component of the project is led by Jackson County, and will stretch from the Truman Sports Complex to Hamblen Road in southern Lee's Summit. In total it will be 15.5 miles and will eventually connect to the Katy Trail, finally completing the state-wide trail system. The trail project consists of three phases: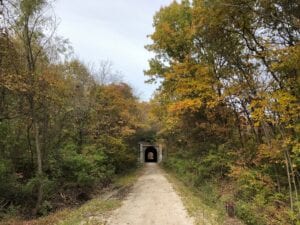 Phase 1: Brickyard Road to Jefferson Street and is nearly finished.
Phase 2: Brickyard Road to the Truman Sports Complex with construction beginning in summer of 2019.
Phase 3: Jefferson Street to Hamblen Road should begin in late 2020 or early 2021.
Future phases will connect to the Katy Trail in Pleasant Hill, a goal of advocates in our region and across the state for several decades.
The transit and economic development components of this project are being led by the Kansas City Area Transportation Authority (KCATA). They see the Rock Island as an opportunity to preserve a linear corridor in the heart of Jackson County for transportation. As our region grows, so will our transportation needs. Acquiring this corridor was a unique opportunity as it can be very difficult, disruptive and expensive to acquire long linear corridors in urbanized areas. KCATA's ultimate vision for this corridor is a commuter rail system, however the transportation component will likely come in phases and may take various forms over its lifespan. The planning process for transit has begun, but what form of transit it will take and on what timeline are still unknown.
The economic development component of this project mirrors investments being made by Jackson County and the KCATA in the trail and transit features. It has been widely demonstrated that trails and transit positively affect property values, create economic activity and help to focus private investment. An economic development vision and strategy is critical to ensure that we make the most out of the  investments being made.
The first phase of the Rock Island Trail will be opening this year and an official opening date will be made public as soon as one is available.