by Jordan Straits
One Good Meal has 130 clients, 11 delivery routes, nine board members, 10-15 daily volunteers, five days a week, and one passionate woman behind it all. One Good Meal Director, Roberta (full name Roberta McArthur, but she insists to work on a first name basis), leads a team of volunteers five days a week to assemble and deliver hot meals to seniors and home-bound individuals in Lee's Summit and Greenwood. One Good Meal has been operating since 1995 and Roberta says she has never once looked back.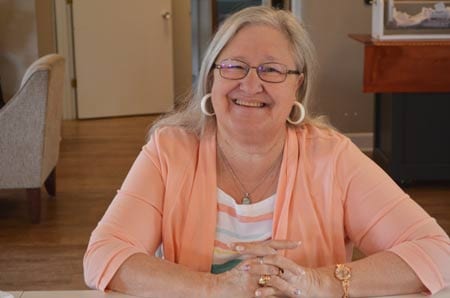 It was Roberta's mother, Betty McKnought, who founded the organization when her 90-year-old friend, Carolyn, needed meal assistance. Carolyn reached out to Meals on Wheels, but at the time was placed on a waitlist. Betty knew Carolyn needed help right away, so she called on her daughter, Roberta, to cook and deliver a meal. Carolyn was the first person they helped, forming a passion for helping that has lasted 23 years.
Roberta and Betty served five clients that first summer and the results were immediately evident. Spirits were lifted, health improved and quality of life got better. They also noticed their clients' medications were more effective due to an improved diet. After that first summer they slowly began to handle more and more of Meals on Wheels' surplus.
One Good Meal has grown a lot since 1995, but Roberta holds fast to the true vision of the organization: caring for people. "One Good Meal has grown in a lot of ways," says Roberta "but not out of how we take care of our clients. I'm just a friend of the family who's helping out."
You can find Roberta and her team prepping meals every morning at Martin Luther Lutheran Church. They don't rent or own a space of their own, and that's intentional. "When you have a choice between $200 in rent or 50 meals, you choose the meals every time," says Roberta. They are a 100 percent volunteer staff, and run on only 7 percent operational costs. A staggering statistic, even in the 501c3 sector.
Over half of their clients cannot pay, but no one gets turned away. They rely on their generous supporters, fundraisers and grants to make all this possible. Lee's Summit East Hy-Vee has been a long-term partner, providing all the food at a discounted price.
The Rotary Club of Lee's Summit rotates a team of 35 volunteers to assemble and deliver meals. "I learned of One Good Meal through my Rotary Club. I have delivered meals for the past 2-3 years. I deliver once a month, it takes 60-90 minutes and I am just one of many that make this program hum. It's cool to be a part of something that is making a difference in our community. To learn more, come ride with me on a Tuesday. I am always looking for a good co-pilot," said delivery driver Michael Maksin. And then there are individual volunteers like Phyllis Haskins who found One Good Meal when she was looking for a way to serve her community. It's a team effort and what they do goes far beyond meals. If a client has a need beyond meal assistance, they do their best to provide it, or connect them with someone who can.
On August 25, 2018 One Good Meal will be hosting their Gin & Jazz Gala at the Lee's Summit Airport Hangar 1. The evening will include live jazz music, food catered by Smoke Brewing Company, silent and live auctions, photo opportunities and much more. A fun night for a great cause! Visit onegoodmeal.org to purchase tickets.