What started as a replacement for Cole Younger Days and way to raise funds to renovate the historic depot in 1989 has since grown into the Chamber's largest fundraiser. Celebrating it's 30th anniversary this year, Oktoberfest has now grown into a festival spanning several blocks in downtown Lee's Summit, bringing approximately 70,000 festival goers to the area the last weekend in September.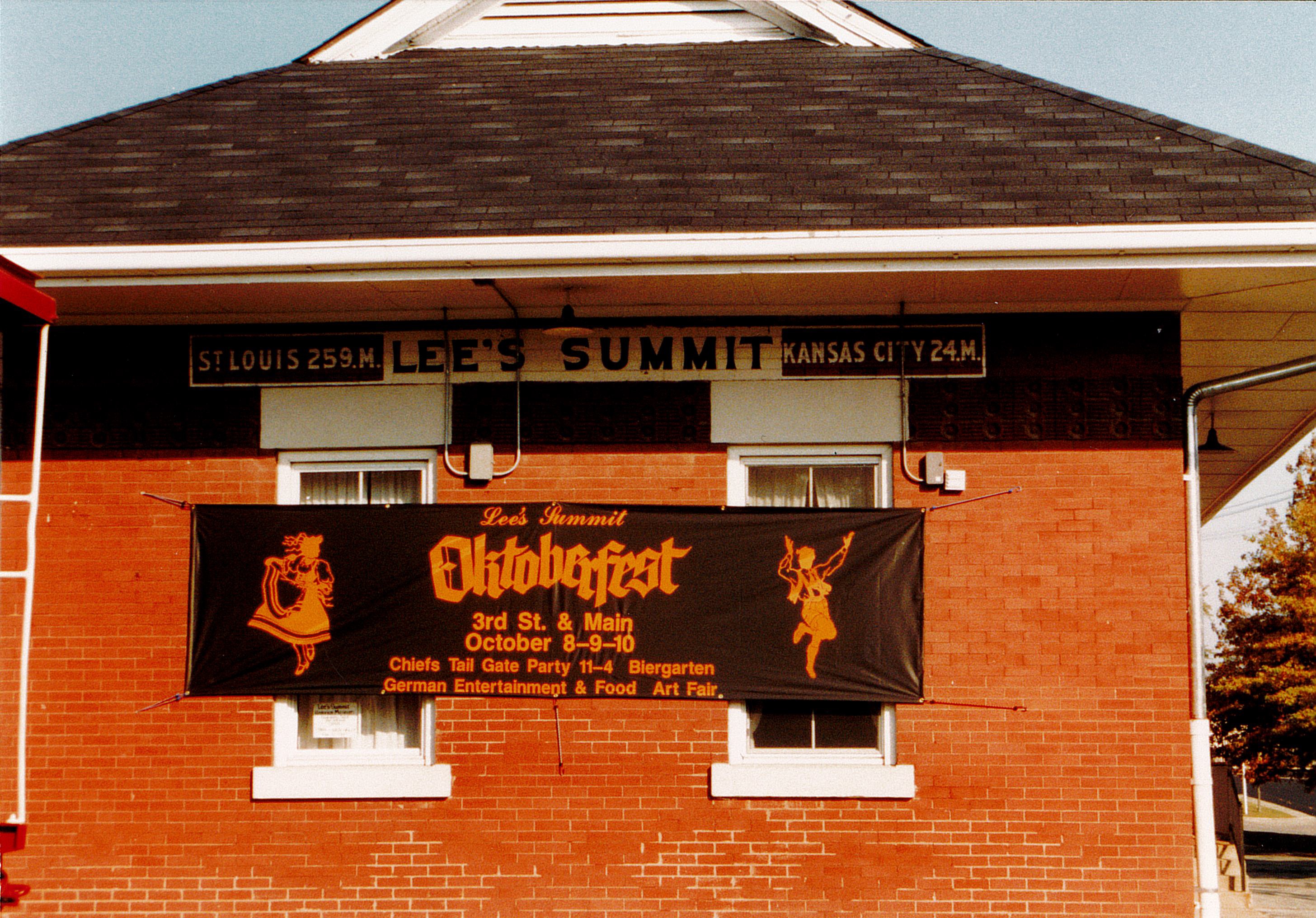 The inaugural event happened under Chamber President Diane Demerest (formerly Jennings) and was held primarily in the depot parking lot and a portion of SE Main St., with carnival rides on SW Main St. The event included live German music, catered German meals and, of course, beer. Oktoberfest was actually the first event in downtown Lee's Summit that required a liquor license. Brad Culbertson, who volunteered his time for much of the planning and heavy lifting to get the event up and running, remembers the turn out that first Friday night, "We were pleasantly surprised at the number of people who came out to the event. I remember the line for food started to back up, so we grabbed trays and started selling beer while people waited in line." The event, which also included a Saturday morning Chris Cakes pancake breakfast and mum sale put on by the Kiwanis Club, was overall a success.
As the years went by, the event continued to grow and the planning committee, led at the time by Karl Bertram, added arts and craft vendors, a 5K race, wiener dog contest, more carnival rides, entertainment stages and, in turn, more space. The festival expanded to cover the streets of downtown Lee's Summit from SW Main St. to Green St., Second to Fourth streets.
A memorable addition to the festival was the annual Pancake Race. The goal was to race from the railroad tracks down Third Street, while racers continuously flipped a pancake in their skillet. Trisha Drape and Nick Parker, who were on the winning Lee's Summit Journal Golden Griddle team, remember what a crack-up the event was. "I remember watching John McCall race down the street, and it's on an incline, and he was almost to the bottom and just lost it," Trisha said. "I was not happy we lost and had to turn over our cherished Golden Griddle from the previous year to the new champs, but it was still hard not to stop laughing. Was that wrong?"
A major turning point for the event came in the early 2000s when Central States and Reinhart Foodservice (American Foodservice at that time) partnered with the Chamber. Central States took care of the beer, making sure it was cold and ready to pour, while Reinhart volunteered the use of their refrigerated food trucks. Former Chamber President Nancy Bruns recalls staff and committee members spending time spooning condiments into individual squirt bottles, and cookie frosting into containers, while trying to transport food back and forth to refrig- erators and coolers for storage. "Reinhart coming on board to help us was a game-changer for the event," she said.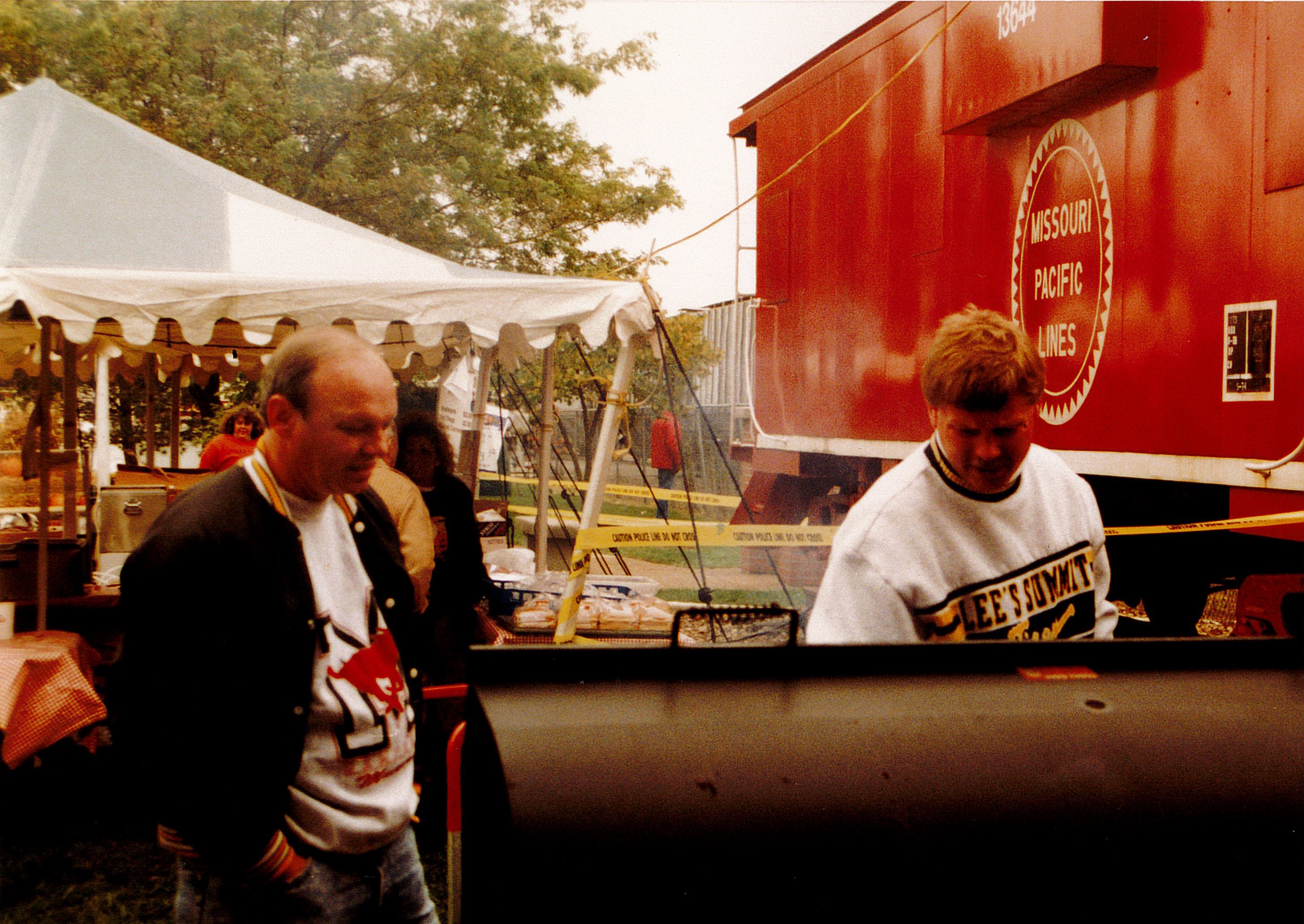 The Reinhart food trucks allowed for the creation of the brat tents, a major revenue generator, that sell brats and hotdogs, pretzels, nachos, pulled pork and more. The addition of these brat tents helped increase the revenue from netting $60,000 to now more than $100,000. Reinhart has also contributed countless hours of planning logistics and volunteer manpower to help the event succeed.
The event itself takes more than 400 volunteers to keep things running smoothly throughout the weekend. Chamber members volunteer to help set up, man beer tents, grill brats and much more. The committee is made up of nearly 30 members who dedicate their time to plan logistics and entertainment, as well as working nearly the entire weekend. "I love volunteering for Oktoberfest. I have been doing that for 19 years and enjoy working in brat tent one because I love to meet people and I see the same people come by year after year," said committee member Jeff Silver. "I enjoy working on the committee because we trade ideas to see what new ideas can work and what things work year after year. I'll probably stay with Oktoberfest until I'm too old to do so."
Chamber member bankers and accountants volunteer on the finance committee and are on-site and on-call the entire weekend. The police and fire departments are vital in ensuring that everything is planned according to code and that attendees remain safe. Simply put, it takes a village and the festival would not happen without the dedication of these individuals.
This year's event marks 30 years, and is set for September 27-28 in downtown Lee's Summit. Committee chair and co-chair Melissa Grinlinton and Lynn Hinkle are leading the charge in what's sure to be another fantastic festival. "This is my 20th year volunteering for Oktoberfest, and it's really come full circle that I get to serve alongside Melissa, who I recruited to help out years ago and has been an invaluable sidekick," said Lynn.
"Seeing the event grow year over year is what I enjoy as a Chair of this event. I have to mention the community itself. I love seeing the families I have met each year and watching their kids grow too," Melissa said. Attendees can look forward to the traditional German meals and music, a home brew competition, grape stomp, carnival, two stages of live entertainment and much more. For more information about this year's event, visit LSoktoberfest.com.