Even before graduating high school from VanHorn of Kansas City, Mo. in 1988, Travis O'Guin was quite the entrepreneur. He spent the years  after graduation running a furniture service business with 32 locations across the country, getting into real estate, and working with friends to help start an urban apparel business. Working with Paradise Originals, the apparel brand, is how Travis first met up with Tech N9ne. Travis approached Tech to see if he would be interested in being a part of their fashion shows and having them design clothes for his own stage wear. This was the interaction between Travis and Tech N9ne that would eventually turn into their current working partnership.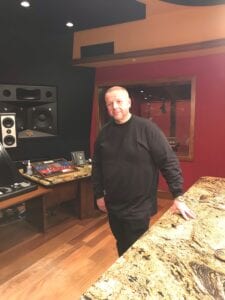 Being a product of the Kansas City School District, Travis was raised in the Hip Hop environment. He always liked rap and the music influences coming from the West Coast and New York. An early fan of Tech N9ne's music, Travis would listen to it saying, "This guy is crazy talented, why isn't he bigger than he is?"
In 1999, they had their first meeting so Travis could find out  more about Tech's current status within the music business. After learning the details of Tech's existing situation, Travis advised him saying, "You need money and attorneys to fix the inner friction," however he wasn't ready to get personally involved. They kept in touch and about six months later, Tech shared his new song, "This Ring," with Travis. It was so powerful to Travis that he decided to discuss the possibility of getting into the music business.
At the next meeting between the two, Travis asked Tech, "What is it that you truly want to do? What is your real goal?" Tech responded with, "Well I have this publishing company, EGN Arts""spelled backwards is Strange."
"Ok, well I'm a huge Doors fan and if I could ever have my own music label "" I want to call it Strange Music," said Travis. This was the start of a conversation that lead them to the partnership they have today.
What have been the biggest milestones and accomplishments for Strange Music?
After formalizing their partnership to create the Strange Music label in 2000, the business had its early trials and tribulations. Travis ran the business side of things while Tech N9ne was the artist, and they shared one unified goal: creating something big. The first four or five years of the label's existence consisted of a lot of expensive lessons on what not to do.
The first distribution deal was working with JCOR, from New York, on the Anghellic album, but it only lasted through the one album. The next partnership was with MSC Entertainment (Mark Cerami), former owner of Priority Records, but again was short-lived. They needed a long-term distribution partner to really move in the right direction.
While the music business overall seemed to be spiraling downward, Travis said they needed a better plan. "We set a goal for ourselves to sell 50,000-100,000 albums and thought that would be our ticket to get a Cash Money/No Limit (wellknown independent labels) type of deal as independent musicians. We needed money to grow and distribute our music in a big way. By 2005 we had sold 500,000 records, not the lessor and were more than ready for that big deal."
Strange Music knew they needed an advance of nearly $400,000 from a
distribution partner to get the next album launched. Travis was introduced to Fontana/Universal Music but they said, "No, we don't do that sort of thing". He invited them to a Tech N9ne show in Los Angeles at the Key Club and the next day they got a meeting to seal the deal for the money needed. This was a new start for Strange Music and really the stepping stone to move forward and make decisions on their own as a label. Everready was the next big album put out with the support of Fontana/Universal.
They have had much success in the last 12 years, since that distribution deal was struck, and while some reorganization happened for Universal (selling Fontana to INgrooves), it is still an effective partnership. Universal distributes physical copies while INgrooves works digital releases.
How do you find new talent?
Strange Music started here in Kansas City, building Tech N9ne and working with local musicians, but over the years has expanded nationwide with about half  remaining local.
Hip Hop has always been their  primary genre, but they are also exploring R&B and Pop. Most new artists come to them. "We get in about 40 demos a week and try to listen to every single one. The only rule is it must be incredible music, and they must be true to the Strange Music brand. Each new artist has come to us in a unique way," Travis explained.
For example, their relationship with ¡Mayday!, from Miami, started because they really wanted to open for Tech N9ne. They now have five albums created during their contract and are looking to re-sign them. The last album they released with them was the number one Reggae album in the country.
Another find was Rittz, from Atlanta. He sent in a YouTube remake of a Tech N9ne song. "That showed new creativity we really liked," said Travis, "and since signing him we've made four albums."
Their newest Pop wave includes a band from Chicago, Above Waves; an artist from St. Louis, Darrein Safron; and Mackenzie Nicole, one of their newest up-and-coming artists from Lee's Summit. Mackenzie is touring along with Tech N9ne and working to expand the audience. She also does multiple local and national radio shows. "Mackenzie is doing incredible  writing her own music, being creative with the videos, and really letting herself come through," remarked Travis.
How does Strange Music inspire creativity with artists?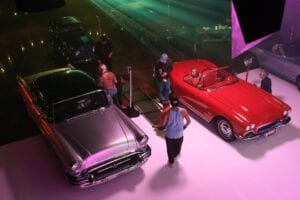 Their space allows for top-to-bottom creative development. They have producers to encourage every aspect needed to develop new music, staff to help in the recording studio, video development, graphic design, merchandise for tours, promotion and social media. Because of all the in-house resources, Strange Music can be very hands-on throughout the creative process for their artists, allowing them to take advantage of the creative environment at Strange Land. Each recording studio has an at-home feel with a full kitchen, couches, private bathroom, and closed-off recording areas.
Technology, specifically streaming music, has certainly affected the music industry overall. There has been a significant hit to the music industry over the last 4.5 years due to streaming. As much as they wanted to avoid it, it was unavoidable, and they have taken a nearly 60 percent revenue hit on music because of it. Approximately 84 percent of streaming revenue is going to less than 1 percent of artists and the independent artists that Strange Music works with are not in this 1 percent.
This is why Strange Music is, and continues to be, so diversified in their overall business. The three main segments for Strange Music are recorded music, touring, and merchandising. Early on, very few independent Hip Hop artists did tours, but Strange Music was able to incorporate innovative touring ideas and VIP packages that have now become the way artists are able to make money. They developed "clearing power" at venues as well, by taking the top spot over other shows because the venue knows Strange Music artists will get the best turnout for a show.
Merchandising is another aspect of the business they do very well. One full building (Strange World) is dedicated to creating,  manufacturing, organizing and distributing all merchandise orders. Merchandising alone is  approximately a $10M annual business with a 60/40 split from online purchases and tours.
Why did Strange Music choose Lee's Summit for their business  headquarters and studios?
Travis started with "offices" in the basement of his Blue Springs home back in 2000. He eventually moved operations from his home to a 1700-square-foot strip mall space on North 7 Hwy for merchandise and development. That space tripled to three 1700 -square-foot connected spaces within a year's time.
With no room to allow for the  continued growth, Travis looked for space in Blue Springs and Lee's Summit. He liked the potential for growth in Lee's Summit and found the 16,000-square-foot "Major Savers" building abandoned off Douglas in 2009 thinking "this will last us forever".
Completely gutted and refinished way nicer than anyone felt Travis should, they outgrew the 16,000 -square -foot -space in 11 months. However, it now serves as the Strange Music headquarters. They had to rent additional buildings across the street and continue looking for additional options.
Strange Music Inc. is organized amongst five different buildings. Each building has a different focus, but all reflect the high-end, Strange Music brand.
What is next for Strange Music?
Right now, Travis has eleven different companies, nine of which work together for Strange Music with vertical integration. In February of 2019, a twelfth venture will be launched and announced in their industry around distribution. Travis says, "I came into this business with an open mind and I learn something new every day. I think being open to learning along the way has allowed us to keep going up with a positive trajectory."
Future growth is also planned on the additional five acres on Victoria Drive in Lee's Summit. Building plans for Strange Headquarters 2.0 will be a 60,000-squarefoot space. They then hope to convert the current headquarters building into "Strange Distillery" where they will create and manufacture their own ready-to-drink beverages.