ONE MAN'S TRASH CAN MAKE FOR GREAT LOCALLY MADE TREASURES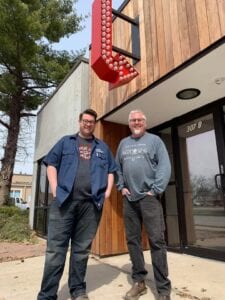 You've probably heard of Dave Eames and Ben Wine, or at least seen their works around town. They're responsible for many of the storefront signs, public art pieces and restored antique fixtures seen in downtown Lee's Summit. For example, the "Be Yourself" art in the alley, restoration of the Hartley Heart, Summit Video Services storefront sign, the list goes on. Dave and Ben have been creating works of art since 2002. Their most recent project, a new retail store called Local Foundery, celebrated its grand opening on April 6 in downtown Lee's Summit at 307 SW Market St.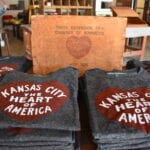 The goal of the store is to offer authentic locally made, and found, objects from Kansas City, Jackson County, and of course, Lee's Summit. Many of their items are vintage, one-of-a-kind finds. "We want to showcase antique archeology, the new and old, and really hope people will see our love of good design and junking," said Dave. Vintage finds currently include a Shell gas pump, and even a Chamber of Commerce memento circa 1925.
The building has been around since the 1960s and was originally the Lee's Summit firehouse, complete with four truck bays and a corner holding cell for trouble makers that would get hosed down. The truck bays have been transformed into great storefront windows, and the holding cell is now a different kind of wet room.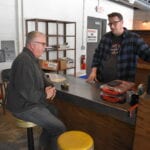 Follow the flashing red arrow, another restoration by the duo, and inside you'll find that even the displays incorporate local history. Tables from the recently closed Do Drop Inn and old wooden ironing boards from Lee's Summit Cleaners serve as table displays for their wares. Everything from furniture, prints, leather goods, jewelry, gifts, stationary, apparel, décor and more can be found in their space, all handmade by local makers. Several items are even designed and custom built in their nearby makerspace, Fossil Forge.
Dave is the founder and owner of Fossil Forge, so when asked how he had time to start a new venture he laughed and said, "I don't! But we've been wanting to do something to really be out and a part of the community, so we couldn't resist."
Dave and Ben also have a vision for the front of the store, including a patio for people to take a seat and enjoy the space with a variety of tables and benches (likely to be masterpieces from Fossil Forge). "We hope people will enjoy coffee or cocktails out here with spring and summer weather. It will make for a really cool Fourth Fridays hangout," said Dave. Plans also include vintage movie nights on the brick side of the building.
Local Foundery is open noon to 7 p.m. Wednesday-Friday and 10 a.m.-7 p.m. Saturday. You can also do some shopping online at localfoundery.com and keep an eye on their Facebook page for upcoming events.