If you look around Lee's Summit, it doesn't take long to notice the deep creative roots sprawling out around the city. We see in it our business climate, our shopping centers, entertainment options and many other areas. We reached out to some of Lee's Summit's top local creavtives to learn about their current projects, inspiration and how they got their start. We hope it provides you some inspiration as well!
Jamie Lyon: Member of In Joy, LLC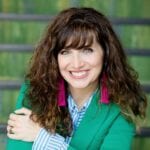 What inspires your creativity? Kids and Teens
How did you get started in your industry? I began by substitute teaching for area art teachers in 2012. I quickly realized my calling of merging art and positivity. I LOVE working with students and inspiring their  creativity!
Do you have a formal creative process? My daily life is always infused with creativity. My intention is to start each day with gratitude, an open mind and an open heart. With these intentions, my personal and  professional creativity flow more freely. If I have a specific creative project I have various processes ranging from finding visual inspiration, sketching to exploring applicable materials and research.
What materials and mediums do you work in? I love painting with acrylics. I enjoy painting directly on the glass of vintage mirrors or picture frames. I am learning to love watercolors and have been exploring new techniques. I also like working with calligraphy and fine point pens.
Who is your role model? I have several people who have played a very important role in my life. They know who they are. They have taught me these values that I try to live out everyday: LOVE, integrity, passion, creativity, leadership, productivity, honesty, kindness, compassion, faith and tenacity!
How do you overcome a creative block? I walk away! Do something else. Clear my mind. Reset and then dive in again.
What is your next big project? For my next big project I am super excited to announce a new journal will be created in 2019. This will be my second edition of an inspirational/interactive journal. This second edition might be smaller in size and easy to transport and work in daily. We will see!
How have advances in technology affected your work? Not much-YET!!! I hope to invest in new products that I can utilize. At this point I am old school, which has served me well.
Jack Truman, Owner, Jack's Floral and Designs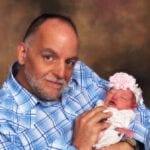 What inspires your creativity? As a designer, I find myself in front of a computer screen for long hours. While it's easy to say that I find loads of inspiration through visual blogs and social media websites like Pinterest (which I do), the truth is that I'm most inspired by stepping away from the screen. Life experiences have inspired a lot of my creations. My creations are influenced by nature, art, interior designs. If I'm able to go on location, the location itself usually speaks to me.
How did you get started in your industry? At a very young age my grandmother and great aunt were event cake (wedding) creators, I would sit and make little rosettes on a tiny spinner top add color to the icing and create brilliant colors. I went to the Floral Academy at American River College at 20 years old, at that's where it all started. As a child I was always redecorating various families' homes.
Do you have a formal creative process? After an epiphany, I evaluate whether the insight is worth the pursuit. I may make changes to the  creation so it is clearer. I may consult with peers regarding my insights during this step before pursuing it further. When working with clients, I may seek a client's input and approval before moving on to the next step.
What materials and mediums do you work in? By choosing the materials I enjoy working with or those that work best for a particular piece of work, use of silks, today's silks have come a long way. They use a product now called Real Touch that look and feel just like fresh flowers. I love to create with fresh floral products. Tropical and exotics are my favorites.
Who is your role model? Ralph Lauren
What was a recent big project? I just finished up a contract for the executive Christmas party at Truman Medical Center where I had to create 15 centerpieces all with lanterns, florals and lights in common. They were then given to the guests at the end of the event. I also have several large weddings coming up in the spring.
Rachael Fitch, Creative Content & Design Coordinator, Downtown Lee's Summit Main Street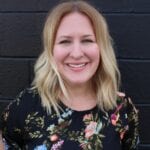 What inspires your creativity? Much of my inspiration is derived from family, friends, and experiences. I've been very blessed to come from a long line of artists and makers, as both of my maternal grandparents were fine artists. My grandmother was a talented watercolor artist, and we have several of her pieces hanging up around our house that I continue to draw inspiration from.
How did you get started in your industry? I started working freelance for  Hallmark with my sister and her company, Pink Pear. I received my degree in graphic design in 2007, and have worked in the industry since then.
Do you have a formal creative process? I don't necessarily have a formal creative process, but a lot of what I do is outlined and sketched out beforehand as I brainstorm ideas. Just like creating music or other forms of art, sometimes you get lucky and it comes to you right away, and other times you just have to push hard to find a breakthrough.
What materials and mediums do you work in? I primarily work with Adobe Creative Suite and other software to create. Other times I am painting and drawing.
Who is your role model? My sister Sarah is my role model. She is the one who always pushes me to keep at it, to succeed at all costs. Sometimes it's difficult to judge your own work and abilities, and Sarah always keeps me on my toes and is very honest with her constructive criticism. She has a great eye for design and her guidance and knowledge have helped me become a better designer.
How do you overcome a creative block? The best way to overcome a creative block for me is to step away from what I'm working on and take things down to their simplest form. Stepping away from the computer, getting lost in some music and picking up my sketchbook has always helped me break through the block. Sometimes you have to take time away in order for your mind to recharge.
What is your next big project? My latest large project is designing stencils and constructing wood signs. My husband and I paint and assemble signs that people can purchase for their home.
How have advances in technology affected your work? Advances in technology have only enhanced my capabilities to create. Each year, we progress further and further away from the basic forms of the creative process and give in to the use of software.
Kim Berwald-Viar, Owner, Celebrating Personal Treasures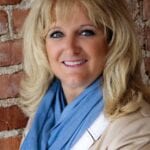 What inspires your creativity? Whether listening to an individual sharing their own story, a family sharing stories about their loved one, or listening to a client's story about their company, it's those stories that give us inspiration. People love to share and talk about themselves, their ideas, and experiences.
What materials and mediums do you work in? We use a photo and video editing software for videos, a professional
lab for print/books, and WordPress when designing websites.
Who is your role model? I have an uncle, Uncle Ronnie, that I remember very fondly. He was fun, honest, kind, generous, thoughtful, and the best listener. When having a conversation with him, he made you feel like you were the only one in the room.
How do you overcome a creative block? I take my dog for a walk, get away from all electronics, and appreciate nature. Then coming back to my project is fresh, easy, and fun.
What is your next big project? My partner, Bill Johnston, and I are working on a start-up that we recently re-branded. RedCarpet Transitions is a transition service for retirement communities who need to increase their velocity and want to treat their residents in a very special way during that 3-4 month move-in process. Recent studies compare loneliness to smoking 15 cigarettes a day. This program addresses loneliness by connecting residents to one another in a fun way as our companions learn all about them, their interests, accomplishments, and stories. We are excited and ready to find the perfect local, launch customer.
How have advances in technology affected your work? People can wait until the last minute, and we can still produce a visual to help them celebrate. For a life celebration video, we work on a very tight deadline of, sometimes, only a few hours. When printing, our lab has a turnaround time of, in most cases, 24-48 hours, and our website designers can build a website in a few days once the content is submitted. Technology allows for quick uploads, downloads, and file sharing, which, in turn, helps us put out a quality product in a short amount of time.
Dave Eames, Owner, Fossil Forge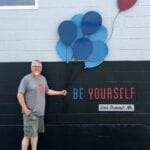 What inspires your creativity? The world around us. I love seeing the energy, enthusiasm and solutions that other people bring to our community. I am grateful to help brighten our world with art, design and expression. I am motivated by the simple ways we can use creativity to spread hope and positivity.
When did you get started in your industry? A long time ago! I have been fortunate to work as an artist and designer most of my life and career. It is a life with no end date on the calendar or retirement age. I smile to think what I do today can be continued until the day I'm gone.
Do you have a formal creative process? Please describe. Almost everything starts with a sketch or doodle. I love taking the kernel of a idea and making it into something real and tangible. I keep journals to draw out and explore concepts. This habit of daily drawing was promoted by one of my early art teachers… an addiction I am happy to have!
What materials and mediums do you work in? I really enjoy all mediums, from digital to wood to metal to drawing and painting. Being curious and willing to experiment is vital to growing as a person, let alone artistically.
Who is your role model? Too many to name, but I would put my parents at the top of the list. They encouraged me to follow this path. This simple act of love and support is a motivator and inspiration to keep moving forward.
How do you overcome a creative block? I'm not sure there is such a thing as creative block. Procrastination is a gremlin that sits on most of our shoulders, including mine. It can be an obstacle, for sure. Deadlines are a perfect antidote.
What is your next big project? We are working on a variety of projects, large and small. Plus, we are working on opening up our new retail store, Local Foundery, right here in downtown Lee's Summit.
How have advances in technology affected your work? In a positive way. Our shop and studio is filled with tools and equipment that is brand new  technology, or has been in use for centuries. I love the mix and match of old and new techniques, a true mashup of creativity.
Will Gibson, Owner, Down to Earth Services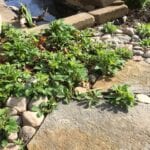 What inspires your creativity? We use what we see in nature as the backdrop for what our designs attempt to evoke in our clients.
How did you get started in your industry? We knew there was a need to see change in the Green Industry, and a need for alternatives to standard design and landscape practices, so we launched our business in 2013 to work toward those goals.
Do you have a formal creative process? 1. Start with site visits
2. Hand drawn sketches  3. Put together a mood or inspiration folder
What materials and mediums do you work in? Some design software, but mostly hand-drawn renderings. We work solely wth native plants to help preserve and restore ecosystems.
How do you overcome a creative block? I get out of the office, I do something different that allows me to shut my mind off"¦like working out!
Who is your role model? Bob Berkebile
What is your latest big project? We just wrapped up a cool Native Plant install at the entrance to the new Winterset Valley subdivision off 3rd Street. It also doubles as a stormwater management system.
How have advances in technology affected your work? Technology has made field work and management much more efficient.
Ben Martin, Executive Director, Summit Theatre Group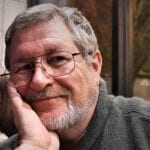 What inspires your creativity? I think a simple question"""What if. . ." And then, I think I like to link things that seem to be separate and different. For example, Cellular "˜Cenes came about because I was working with DLSMS on arts activities and then I saw a Ted Talk by Ben Cameron about how legacy performing arts organizations had to find new ways to reach out to  audiences. I think our STG inaugural production of Bus Stop at Neighborhood Café had the same genesis.
How did you get started in your industry? It all began with a 3rd grade Christmas pageant and my first solo line onstage "Look she has snow in her hair." I've been doing theatre of some sort ever since.
Do you have a formal creative process? What fun would that be? No, I would describe it as a discovery process. If something strikes me then I kind of experiment and write or create until things begin to gel.
What materials and mediums do you work in? Performing arts, designing, writing, directing, and some acting.
Who is your role model? Oh, my, that is ever-changing. I think I've discovered people I respect and their approach to work in an ongoing sequence. The first was my high school theatre teacher, Paul Morefield, but since then I've had many.
How do you overcome a creative block? I actually do a workshop on that very thing at high school theatre conferences. The key thing is to kind of look away from the block and work around it. So, if I'm writing I think in pictures or textures or anything but what I'm writing at that moment and see if
something can connect and then move me past the block.
What is your next big project? Community theatre is getting ready for the next set of auditions for the rest of the 18-19 season. On a personal level, I'm sort of taking a break.
How have advances in technology affected your work? I've tried to be an early adopter, but some things are moving past me now. However, the Cellular' Cenes experience really moved me past the limitations of a standard theatre space.
Russ Berlin, Conductor, Lee's Summit Symphony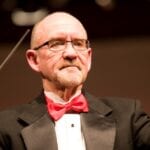 I have been a music teacher and conductor for 50 years. I am a firm believer in how music affects young students as well as all ages who enjoy live music. Music directly affects our moods, behavior, and mental acuity. My goal was not to make professional musicians, but for each student to stay active in the cultural arts in their hometown. That was a reason that I decided to co-found the Lee's Summit Symphony in 2003 after retiring from 30 years in the Lee's Summit R-7 School District. Many of the people who started with us were former students. I am a believer in music therapy that is widely used for older adults and those with handicaps.
Being a musician, both left and right sides of the brain are utilized. The right is for creativity and sensitivity, and the left is more for concrete thoughts and fundamentals. I get inspiration from making music come alive with phrasing, shading, dynamics, and tempi. I also get inspired by watching students' faces light up when the music speaks to them personally. I started teaching private lessons while in high school, and it changed the way I approached the learning fundamentals. Since every student learns differently, it helped me research my methods. My music teachers at all levels were my role models, and I have tried to live up to their expectations. I have also benefited by learning from my colleagues and other professionals. Music technology is one of the biggest changes and challenges for older musicians like myself. The production of sheet music will eventually be done with iPads on the stands. Recordings are much easier with the iPhone and mp3's. It is a rapidly changing medium.
The Lee's Summit Symphony is in our 16th season, and we have moved our concert events to the Pavilion at John Knox Village. Our first concert was held in October and was a wonderful success with a full house of music lovers and excitement of a new venue.