Colonial Gardens was founded in 1969 and is celebrating its 50th anniversary this year. For many years it was just known for nursery plants in south Blue Springs, a lot of flowers and seasonal plants within a greenhouse setting for your garden and home landscape, however, much as changed over the years and it is continuing to grow into a much fuller business.
Tory Schwope's love for horticulture developed as a child while watching his father and uncle run a tree farm in Oak Grove, Mo. The tree farm was more of a hobby for the gentlemen as they also worked full-time jobs, so eventually they sold the farm to Colonial Gardens. Tory was devastated. A few years down the
road, when Tory was 16, he approached Colonial Gardens for a job but was sadly denied.
Despite the denial, Tony decided to begin his own landscaping business in Olathe in 1997, and in 2016, Schwope purchased Colonial Nursery as the retail part of this overall business. Since then, Tory has developed a family of brands under the umbrella DCA Outdoor that includes agriculture and nursery production, landscape distribution, retail, and agri-tourism. "I want people to understand that sustainability, agriculture, food, and health (both people and planet) should all be cyclical," explained Tory. There seems to be two ends of the spectrum when people think about food production. Either "we must feed the world" mass production or "back to the way it used to be" individual farmers. Really there is an efficient, corporate farm method that can be had in the middle.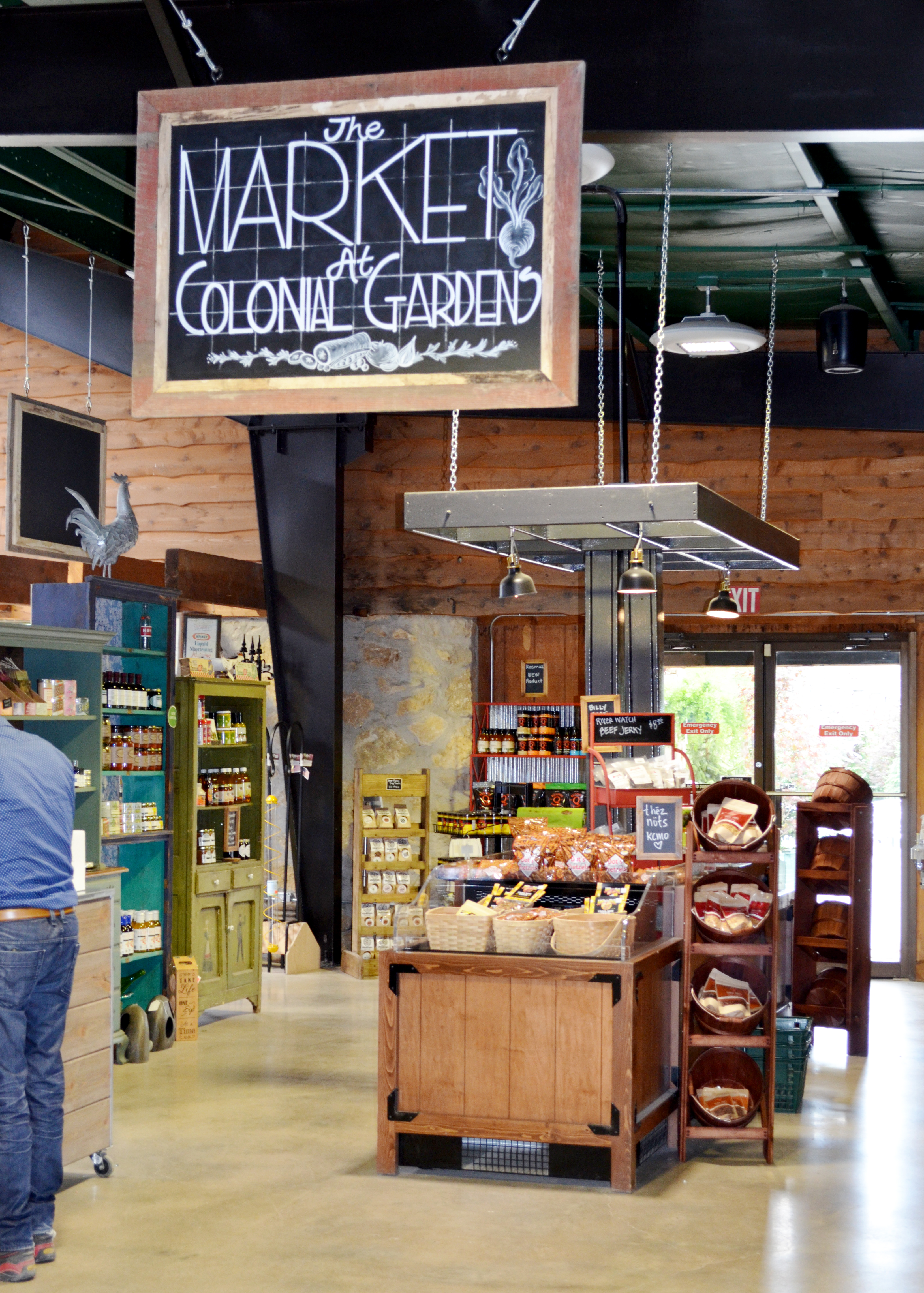 Colonial Gardens saw many renovations in 2018. For example, the retail space was completely renovated to also include The Market. The Market at Colonial Gardens was created as a means of connecting our community to both locally grown produce and other sustainable producers. The Market sells produce grown on site and by farms in the area, farm-produced goods from regional growers, pasture-raised meat from some of the area's best producers (Harmony Farms, River Watch Beef, et al), and health and wellness products.
Another 2018 renovation and part of the agri-tourism direction included the creation of event spaces. The courtyard at Colonial Gardens is a beautifully integrated open-air event space complete with a covered stage for performances, speakers or  musicians. This outside area accommodates up to 150 and can be reserved for private events. Future plans are to build an outdoor kitchen and grill to complement the existing courtyard.
The Loggia is the adjacent covered outdoor area which spans the full length of the courtyard and is often populated with vibrant, showy flowers and plants. The Community Room, positioned between the courtyard and the market, is a multi-purpose space for workshops, classes, crafts and a reservable private room, complete with large screen monitor and AV hook ups.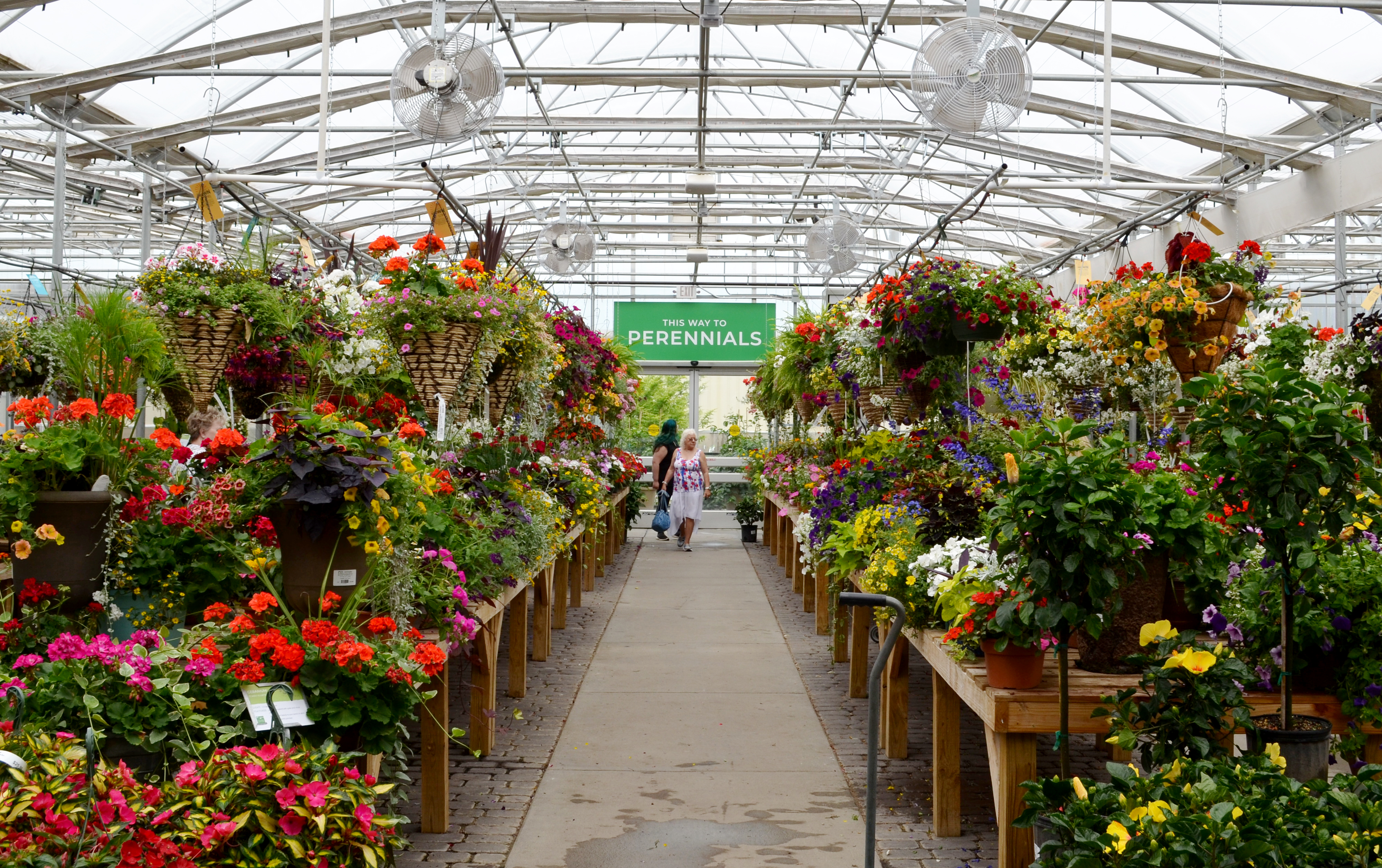 Renovations continue into 2019 with the redesign and updated landscaping of the Lathe house (nursery stock) area. A new, thoughtfully designed, walkaway showcases the abundance of paver options available from KAT (landscape distribution) and leads customers through the nursery stock. This intentional path helps customers navigate through the large variety of plants, such as shade plants, partial sun, full sun and even includes a section for Native and Wildlife Habitat and Japanese gardens.
Another new and fun endeavor available now is the farmer grown food subscription service. The Colonial Farm Share subscription includes 15 weeks (June"" September) of the best seasonal produce their farmers are harvesting. Members receive a wide variety of garden favorites and some that people may not have ever tried before! Each share contains 7-9 varieties of produce including: kohlrabi, broccoli, carrots, potatoes, lettuce, peppers, bok choy, summer squash, tomatoes, eggplant, onions, brussels sprouts, cabbage and much more. It is an easy way for people to receive fresh, nutrient-dense produce featuring the absolute best of what's in season!
There is still much to come for Colonial Gardens. An open-air amphitheatre and future orchards open to the public for "self picking" are both on the horizon, but before they get too far off in the future Colonial plans to host a big 50th Anniversary Birthday Bash in September to celebrate their success thus far. For more information about this event and others check out colonialgardenskc.com.
BEAN COUNTER CAFE: Colonial Gardens' resident restaurant packs a big punch with the locals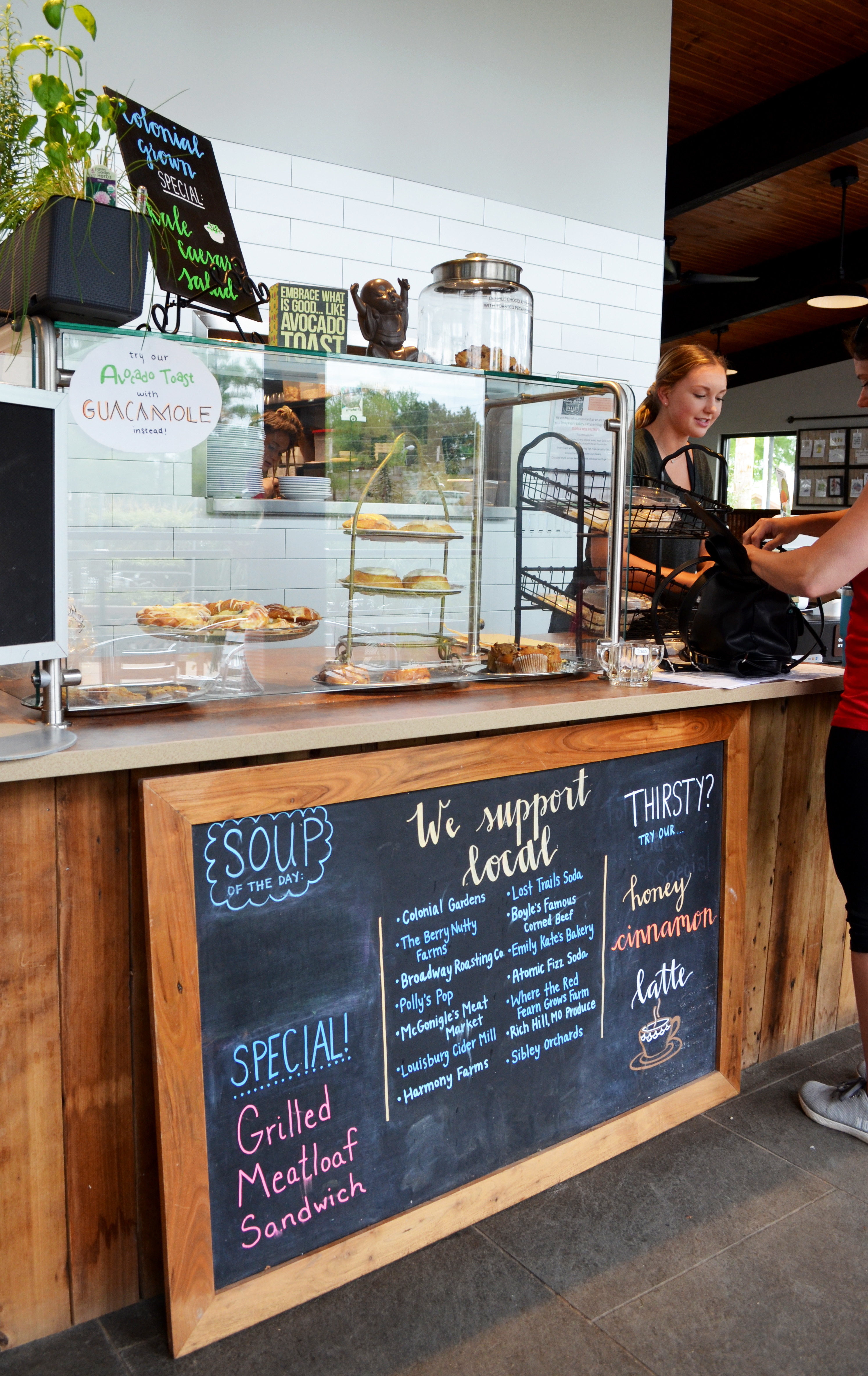 By: Heather Thompson
Jordan and I sat down for an incredible, garden-fresh, homemade lunch outside the doors of Bean Counter Café amongst beautiful flowers and plants at Colonial Gardens. Tucked away on south 7 highway, we never imagined what a lunch destination it would be, but now we understand why so many people love it.
Everything from the soups, sandwiches, salad dressings, croutons and pastries are intentionally made from scratch. All the ingredients come from local producers including much from the onsite Colonial Gardens. Lettuces for salads and wraps, spinach, herbs, multiple varieties of kale, tomatoes, cucumbers, and berries all influence the seasonality of the menu. The current special was a kale Caesar salad that of course was tossed with house-made dressing (with anchovies, but no eggs).
Sara Lawson-O'Bryan bought the Bean Counter Café eight years ago and just celebrated one year of their new location within Colonial Gardens. The new location couldn't fit Sara's concept for the restaurant better – fresh, seasonal produce at the heart of it all.
It was amazing to see how many regulars Sara greeted at the door as she talked with us outside. Sara explained that alongside my wrap were pickles that her husband makes and jars for sale in the store. Also from Sara's home garden are the jalapeños that she uses in the guacamole.
The sign inside shows the large variety of local producers and small companies that she brings into her space for sharing. A selection of gluten-free baked goods from Emily Cakes in Prairie Village, craft sodas from Polly's Pop in Independence, coffee from Broadway Roasting Co. and Boyle's Famous Corned Beef are just a sample of the local goods.