The year 2020 has undoubtedly been a year to remember. With little warning the COVID pandemic hit our community like a wrecking ball requiring major changes in everyday life, forcing new practices for the way we do business, altering education models, disrupting sporting events, and the list goes on. But perhaps more than any other group, the pandemic has wrecked havoc on our medical community, turning upside down normal protocols and presenting challenges like they've never seen before. Thankfully, amongst all the chaos, many individuals in the medical community have risen to call of this crisis, stepping up and making a difference when it counted the most! While we know this list is far from complete, we offer this small sample of frontline workers that have stood out in their organizations as a reminder that there is hope to be found even in the darkest of times. We thank all our frontline heroes for their continued service.
Truman Medical Center – Lakewood
Lakewood Care Center
The COVID-19 pandemic has forced far reaching change in all health care facilities. At TMC Lakewood, acute and clinical services were immediately impacted, but so was the long term care facility. Lakewood Care Center, home to around 175 mostly elderly residents, was declared to be under quarantine in early March. That meant no on-site family visits, and confinement to residents' rooms. No field trips, no walks to the gift shop, and no time outside where this high risk population might have been exposed to the virus.
Staff at Lakewood Care Center have been critical to protecting these residents and assumed additional roles to adapt, and assure that they received the social interaction and care needed. "I have performed every role from CNA (Certified Nursing Assistant) to charge nurse to my own role as a nurse manager," noted Kimiko Fowlkes, RN. "We have all been like family to grieving residents. I've learned and performed new procedures, including the new antibody infusions for the treatment of COVID-19."
A challenge that all staff faced was being able to provide compassionate care with the added factor of personal protective equipment (PPE) and social distancing. "While PPE and distance reduces risk for obtaining the virus, it also limits skin to skin touch, long conversations, and the affection that nurses and residents are accustomed to sharing," said Fowlkes. This interaction became more critical as residents had limited access to families and loved ones.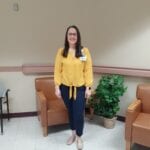 Melissa Harwood – Licensed Master Social Worker
Melissa Harwood, LMSW joined the staff in April 2020. "The importance of monitoring all the residents' psychosocial well-being is top of mind," said Harwood. "The restrictions set forth to keep everyone safe cause an impact emotionally on many residents. I have been successful at identifying residents struggling through isolation, and doing my best to provide interventions to help them through these hard times." Harwood and others have shared their story with neighbors and friends throughout the community and many have delivered special treats, meals, videos and games to provide some entertainment for the residents.
The social workers have played a critical role in keeping residents connected to their families through video chats, phone calls, or window visits. "One of the greatest challenges has been the inability to give residents and families an answer to the question that is asked daily," said Harwood. "When will this be over? While we have no answers, we have begun to provide vaccinations to our residents this week. That gives them hope."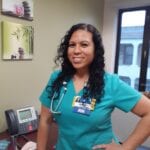 Kimiko Fowlkes – Registered Nurse
Kimiko Fowlkes, who has been a Nurse Manager at Lakewood Care Center for more than 5 years, says she has seen "staff pulling together in ways that we didn't know we would ever have to. We will definitely rise out of the pandemic, a stronger more unified team because we have had to be creative together, overcome obstacles together, and lean on each other more than ever before through long hours and extra shifts. And we have been able to provide quality nursing care, while protecting our vulnerable elderly population during this pandemic."
Lynette M. Wheeler, Lakewood's Chief Operating Officer is responsible for both the hospital and long term care day to day operations. "The quarantine has been so difficult for Lakewood Care Center residents and their families," said Wheeler. "Our staff has remained focused in their commitment to keep these residents safe, and maintain a positive quality of life while we get through the pandemic. I am truly proud of their efforts."
---
Advertisement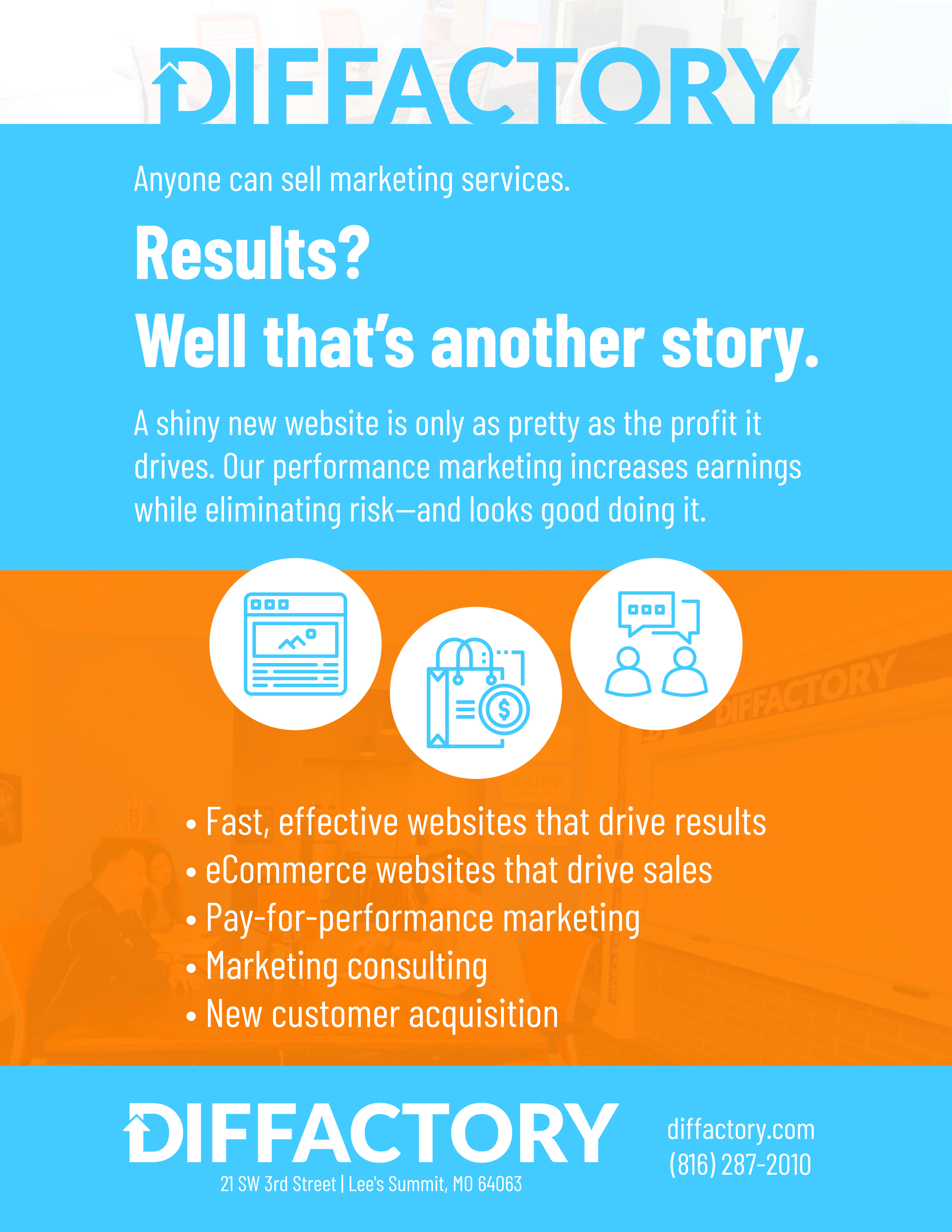 ---
St. Mary's Medical Center
St. Mary's Medical Center has been at the forefront of this COVID-19 pandemic. St. Mary's had the first Covid positive patient in the metro area. This pandemic has brought on many challenges and learning opportunities. It has required our staff to work tirelessly in continuing to provide excellent healthcare. One of our team that has gone above and beyond is Marcus Keck.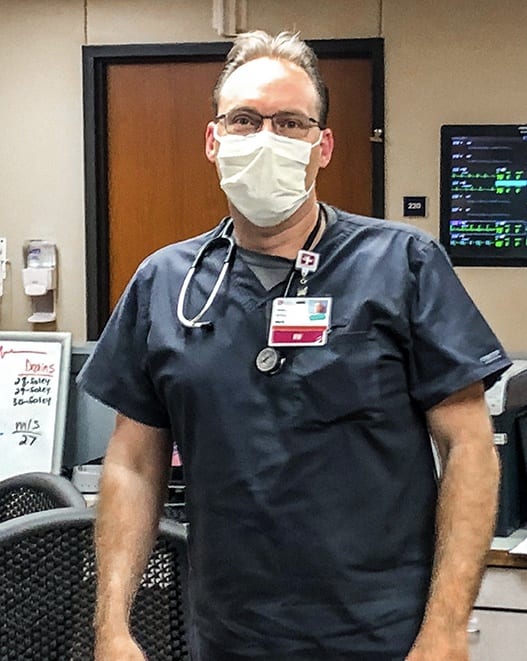 Marcus Keck – Registered Nurse
Marcus Keck is a registered Nurse on our Telemetry floor. He also serves as Charge Nurse. Marcus is very well-respected by all who work with him. Through this pandemic, Marcus continues to exhibit a positive, can-do attitude and is team oriented. He has demonstrated flexibility with staffing and scheduling. He has done all of this while taking care of Covid positive patients as well as other patients with the utmost dignity and respect. While the pandemic has put strains on staffing, Marcus has continued to step up by taking extra shifts, staying late, coming in early, the list goes on and on. Marcus wants to ensure quality care is given to every patient despite some strenuous circumstances.
Marcus also continuously checks on his co-workers, offering help to his teammates on a regular basis. His colleagues, patients, visitors/family members, physicians, and house supervisors all speak very highly of his work ethic, demeanor, and skill level. As a result Marcus has been honored with a Daisy Award which is given to nurses that go above and beyond. They are nominated by anyone in the organization such as patients, family members, fellow nurses, physicians, clinicians and staff. Marcus is continually nominated and recognized by his peers. It has been no surprise how much he has stepped up during this pandemic. He is an outstanding employee and an asset to St. Mary's Medical Center.
---
Lee's Summit Medical Center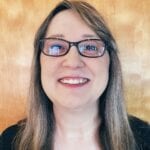 Mary Young – Infection Prevention Coordinator
Mary has over 30 years of experience in Infection Prevention. She has worked at Lee's Summit Medical Center (LSMC) for seven years and has played a vital role in the safety of our patients and staff. She is an expert in the field, and works diligently to insure that LSMC's staff and patients have the tools and resources necessary to prevent the spread of infection and promote healthy outcomes. With her guidance, she has helped LSMC lead our HCA Midwest Health area hospitals in the reduction and eventual elimination of hospital acquired infections (HAIs). At the onset of the pandemic, Mary's guidance and actions on our Emergency Preparedness Team was integral in the success our facility reached in safely treating our patients and preventing the spread of COVID-19. She continuously communicated with Jackson County Health Department and neighboring counties regarding COVID-19 statistics keeping abreast of the latest identification, treatment and prevention strategies. She regularly updated the Emergency Preparedness team on current COVID-19 stats, treatment and personal protective equipment (PPE) recommendations, and actively collaborated with a multi-disciplinary team to promote safety and prevent the spread of infections by:- Educating our care team of the most up-to-date and effective isolation practices and proper disinfection techniques to keep our patients and staff safe
– Educating our Environmental Service team to ensure safe practice with non-COVID-19, positive COVID-19 and potential COVID-19 patients
– Working closely with HCA's Central Supply team to ensure LSMC had the PPE, cleaning supplies, and other necessary equipment to properly and safely care for our patients
– Working closely with the Director of Plant Operations to develop and implement plans to ensure patient rooms were equipped to safely house our COVID-19 and potential COVID-19 patients
– Providing expert knowledge as a member of our Emergency Preparedness team to ensure that LSMC had advanced preparation to be equipped to handle a large influx of infectious patients
So many staff members at LSMC have recognized Mary's tireless work and dedication to our hospital, our patients and our staff. One staff member stated "I am so thankful for Mary. Her guidance with the use of PPE makes me feel safe to care for COVID-19 patients". Another team member shared, "Mary has been amazing. She was available day and night and I was always met with a cheerful voice and smile no matter what time of day I reached out to her." Our senior team and department leaders are so thankful for Mary's leadership, dedication and assistance through these unprecedented times. Mary is often referred to as the "bug lady" because she truly lives to provide safe and effective care by preventing the spread of infections.