August 10 is not a date that we normally associate with a big celebration, but this year it is a day where communities throughout our state will come together to celebrate Missouri's two hundredth anniversary as the 24th state to enter the United States.
Lee's Summit will join over a hundred communities across the state on August 10 in hosting an old-fashioned ice cream social from 5:00 p.m. to 8:00 p.m. at the Lee's Summit History Museum in the heart of downtown Lee's Summit. They'll be closing down SW Main Street in front of the History Museum to make room for all of the family fun and entertainment. Festivities will include free ice cream for the first 500 attendees with additional ice cream available for purchase. Plus, there will be live music, children's games, free entry to the museum to view  a special bicentennial exhibit, and walking history tours. Be sure to bring folding chairs and blankets to sit and enjoy the festive evening while visiting with friends and neighbors. All Lee's Summit residents and visitors are welcome to attend.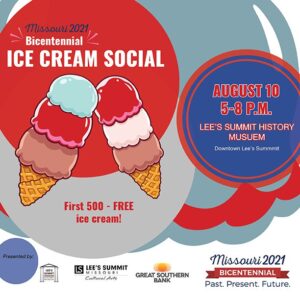 The "Community Ice Cream Social:  Celebrating Missouri's Bicentennial presented by Great Southern Bank" is hosted by the Lee's Summit Historical Society and Lee's Summit Cultural Arts. The event is a true community-wide effort. Additional partners include the Lee's Summit Chamber of Commerce, Downtown Lee's Summit Main Street,  Lee's Summit Sunrise, Noon and Downtown Rotaries, and Lee's Summit Symphony. Each of these organizations have joined the effort to plan and support the event.
Dr. Fred Grogan, Board Chair of the Lee's Summit Historical Society and event planning committee chair emphasizes that "The cooperation and enthusiasm shown by all these groups for working together to provide our community a celebration worthy of this historic occasion has been remarkable. It clearly illustrates the strong sense of community and cooperation that characterizes our great city."
The  bicentennial exhibit at the Lee's Summit History Museum will include two components:  a time-line highlighting key events leading to Missouri's entry into the Union; and highlights of Lee's Summit's development during the 200 years of Missouri statehood.  Although Lee's Summit did not incorporate as a town (initially as Strother) until 1865, the area was known as Big Cedar and had earlier been part of Osage Indian territory.  Lee's Summit's founder, William Howard from Kentucky, purchased the tracts of land that became the initial town boundaries of Lee's Summit in anticipation of the Union Pacific Railroad being built through that land.
For more information about the Lee's Summit history, visit the Lee's Summit History Museum online at leessummitmuseum.com. The Missouri Bicentennial statewide celebration is coordinated by the Missouri Bicentennial Commission.  For more information about Missouri history and the Missouri Bicentennial celebrations across the state visit their website at missouri2021.org.