Three years ago, Teddy and Anna Astatke fulfilled their long-time dream of opening their own coffee shop, Ahadu Coffee, in Lee's Summit.  While it is their first venture in entrepreneurism, they are quite familiar with the world of coffee. You might say they were born to it.
Both Teawoderos (Teddy) and Algansh (Anna) were born and raised in Addis Ababa, the capitol city of Ethiopia, a democratic republic located in the Horn of Africa. The nation's culture and economy revolve around coffee. Of its 115 million people, an estimated 15 million are directly engaged in some aspect of coffee production. Virtually everyone consumes coffee three times a day – and more, when entertaining guests.  Hospitality is very important there, as it is in Ahadu Coffee.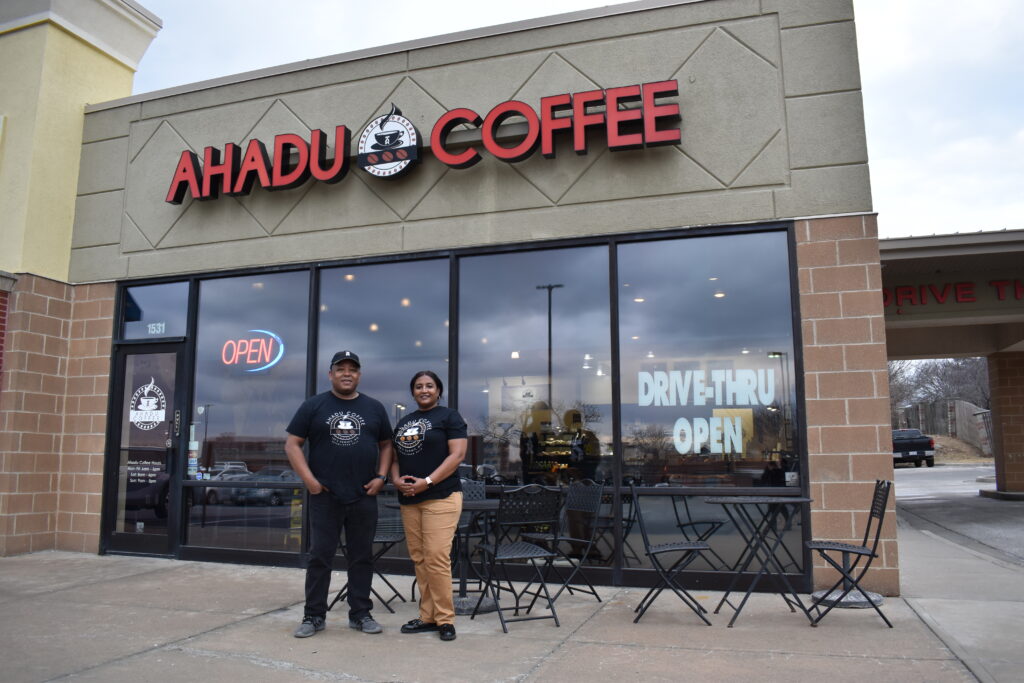 A painted sign in Ahadu Coffee:  Magic Beans are Real. It's Called Coffee
Even on a bitterly cold morning, Ahadu Coffee is warm and inviting. Two ladies, coffee mugs in hand, huddle around muffins and a laptop computer at a conference table. Two men, relaxed and laughing, sit across from one another at a table near the wall, enjoying crepes, along with the shop's signature drink, the Ahadu Special. (The Ahadu Special is not to be missed. It is a macchiato, with caramel, vanilla and a secret custom mixture found nowhere else.) Three people are engaged in deep conversation at a grouping of comfortable leather chairs. Soft music plays in the background.
This is exactly as Teddy and Anna envisioned the shop. A place for relaxing. For business meetings, Bible studies, even a game night. A place that is inviting. A gathering place.
After leaving his home country, Teddy studied in the Ukraine, and then moved to Germany, where he met Anna. Upon securing Diversity Visas they moved to San Jose, California. In August of 1996, they moved to Lee's Summit, becoming U.S. citizens in 2001.
Teddy and Anna have been married for 22 years and have two sons. The older, Yonny, is a music major and aspiring opera singer, studying at the University of Missouri, Columbia. Mickhael is at Lee's Summit High School, and studies software engineering at the Missouri Innovation Campus.  (Both are very competent baristas, by the way.)
The couple were inspired by their coffee supplier – who happens to be Anna's brother – to dream of opening a coffee shop where they could serve the best coffees from around the world.
Coffee brewing and consumption as we know it today can be traced back 500 years to the Keffa region of Ethiopia, where coffee beans were first discovered. (The word, "coffee," is derived from "keffa.") Anna occasionally offers a very well-attended Ethiopian coffee ceremony at Ahadu Coffee, for people who have an interest in the traditional art of coffee brewing. (Follow Ahadu Coffee on social media for upcoming opportunities to attend.)
A painted sign in Ahadu Coffee:  "Today I will do amazing things. But first, coffee."
After opening Ahadu (which means "first," or "the one") Coffee in 2019, and enjoying a solid first year, the shop ran headlong into the COVID 19 pandemic. Business fell sharply, as people understandably stayed much closer to home. Even while times were difficult, Teddy and Anna continued to forge ahead.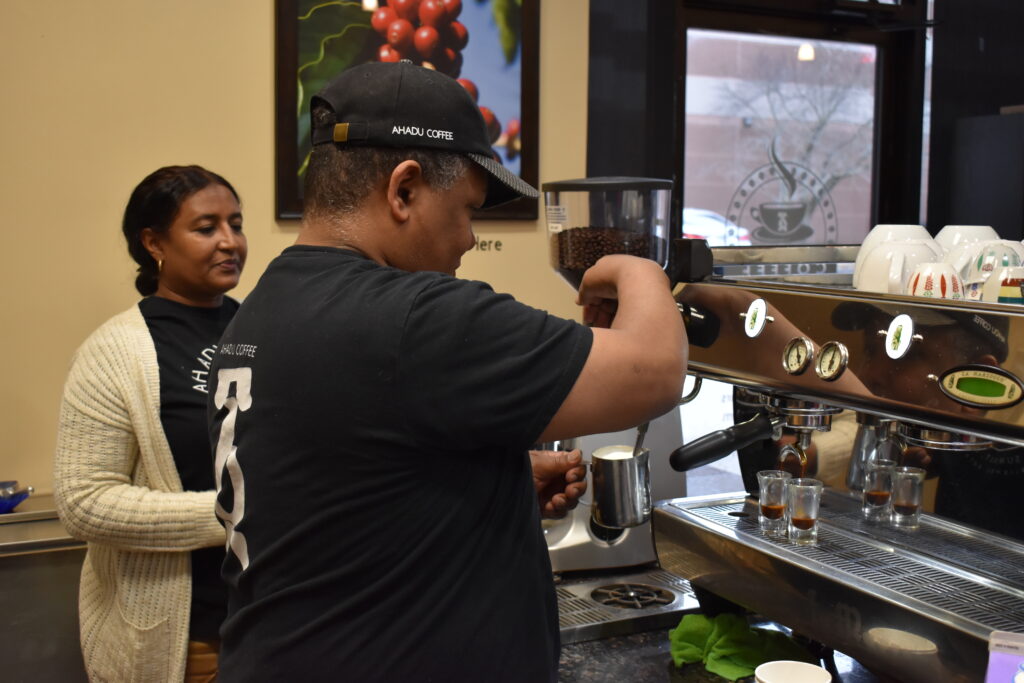 "Love of coffee is our passion." Teddy Astatke
There is a large-scale map of the world on the wall of the shop, created by a customer, identifying the various coffee-growing nations and regions around the world. Coffee production and quality are based on climate, weather, topography, altitude, and soil. Teddy explains that the flavor of coffee can vary from location to location, even tree to tree.  The combination of these factors gives coffees from different regions their distinctive flavors.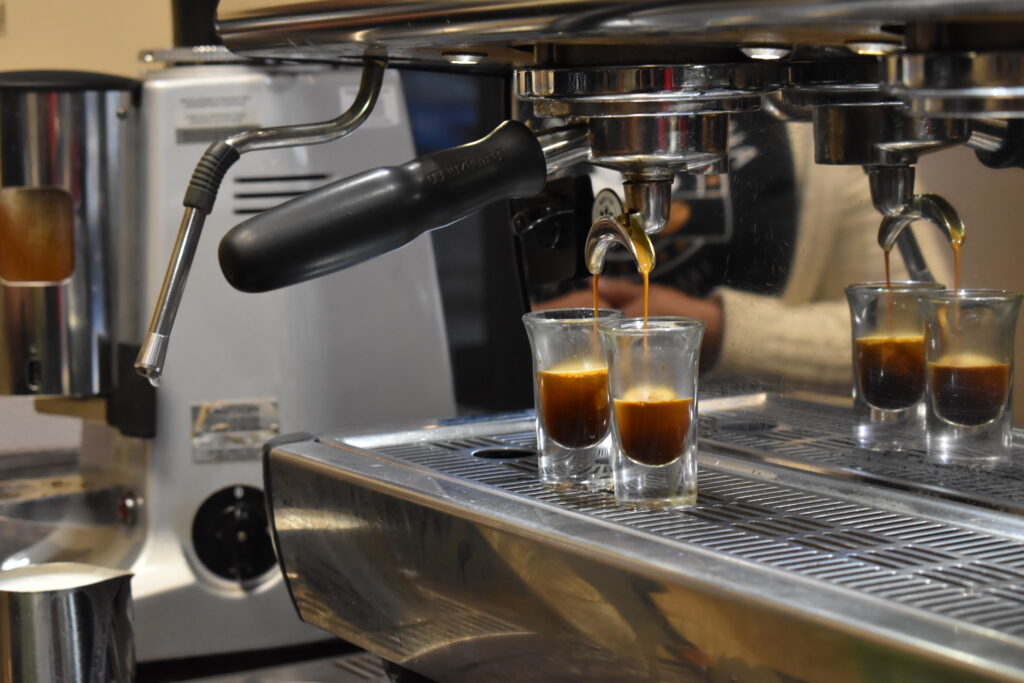 "Farmers We Trust, Coffee You Love!"  Sign in Ahadu Coffee.
The centerpiece of Ahadu Coffee is obviously coffee, in varieties from around the world.  There is also an extensive tea menu (be sure to try the Apple Pie Chai – "apple pie in liquid form," – found only here at Ahadu Coffee), blended drinks and smoothies, iced coffee and more. An array of cookies and muffins is available, and, on Fridays, Saturdays, and Sundays from 9:00 a.m. to 3:00 p.m., crepes. (Don't miss them!)  If you don't have time to stop in and relax, pull up to the drive through and take your refreshment to go.
Ahadu Coffee has an extensive social media presence, giving the shop significant visibility. It has gained an expanding customer base throughout the community, including Raytown, Grandview, Blue Springs, Independence, and of course, Lee's Summit. No surprise at all, the shop earns high marks for customer satisfaction on Google Reviews, Yelp and Facebook. Word of mouth has been a key factor in the shop's growth. Eventually, Teddy and Anna plan to expand the operation to additional locations.
Ahadu Coffee is located at 1531 NE Douglas, across from Saint Luke's East hospital, and just north of B&B Theatres Lee's Summit 16.  (And, in case you're interested, 7,965 miles from Addis Ababa, Ethiopia. Really.)
Make mine an Ahadu Special.
Author: Kirby Asplund, The Asplund Group, LLC