The Aircraft Electronics Association is celebrating its 10th year in Lee's Summit this summer after relocating its international headquarters to the city in July 2008.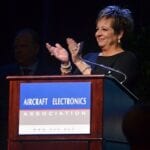 Founded in 1957, the international trade organization represents nearly 1,300 member avionics companies in more than 40 countries, including government-certified international repair stations specializing in maintenance, repair and installation of avionics and electronic systems in general aviation aircraft. The AEA membership also includes manufacturers of avionics equipment, instrument repair facilities, instrument manufacturers, airframe manufacturers, test equipment manufacturers, major distributors, engineers and educational institutions.
While the Midwest is home to the AEA's international headquarters, it also has regulatory and legislative offices in Washington, D.C., and Cologne, Germany. In addition, the association publishes a monthly magazine, Avionics News, which is now in its 55th year and read by thousands of avionics professionals, aircraft owners, pilots and regulators around the world.
"We moved to Lee's Summit 10 years ago partly because we wanted to be near a general aviation airport," said AEA President and CEO Paula Derks. "The runway extension at the Lee's Summit Airport makes it even more convenient for us to conduct business. For example, we bring hundreds of avionics professionals to our community for industry meetings, forums and events throughout the year, and we also host a variety of training courses at our professional development center. We are looking forward to welcoming a new avionics shop to our community later this year, as one of our member companies is expanding its business to the Lee's Summit Airport."
While the AEA focuses on avionics, it also is part of the general and business aviation industry. A recent study conducted by PricewaterhouseCoopers, determined that general aviation supports 1.1 million total jobs and supplies $219 billion in total economic output in the United States. Additionally, 118,000 new technicians will be needed in North America over the next two decades, according to an analysis by Boeing.
"The demand for aviation maintenance technicians will outstrip supply by 2022," Derks said. "The market is certainly
ripe for individuals interested in pursuing a career in aviation, avionics or aircraft maintenance." Under Derks' leadership as president and CEO during the past 22 years, the AEA has been a trailblazer when it comes to training avionics technicians and assisting in the certification of new technologies. A true industry leader, Derks also is a trustee for the Aviation Accreditation Board International. She is a member of the Aviation Advisory Council for the University of Central Missouri and is a charter member of Women in Aviation International.
Ironically, Derks never intended to pursue a career in the aviation industry, let alone the general aviation electronics segment of the industry. However, after devoting nearly 40 years to the industry, she cannot imagine a different career pathway.
"My degree is in public relations with a minor in journalism from University of Central Missouri," Derks said. "When I graduated, I thought I would pursue a job in the publishing and marketing arena for a large company. My father had always worked in marketing and sales for aviation equipment manufacturers, so I was somewhat familiar with the industry."
In her sophomore year of college, Derks' father was hired as the president of the AEA, which, at the time, was a small 200+ member organization. Not only was he tasked with expanding the association's membership, developing new member programs and increasing the size and circulation of the monthly magazine, but he also needed to hire staff to help it grow.
"He offered me a part-time job during the summer writing articles and designing the layout for the magazine, as well as selling advertising," Derks recalled. "I accepted his offer thinking it would be the perfect summer job. That summer job expanded into weekends and holidays during the school year, and upon graduation, I was hired full time as the managing editor."
From that point on, Derks grew the size and stature of the monthly magazine. From its humble beginnings, Avionics News is today the largest and most widely circulated magazine dedicated to the general aviation electronics industry. Eventually, she took on the role of director of communications, working with the aviation media and AEA members to promote the AEA's mission.
"Truly, I was learning as I did the job and quickly realized two things: I had to work twice as hard to be accepted in a male-dominated industry, and I had to prove myself since I was the president's daughter," she said. In 1996, when her father decided to retire, the AEA's board of directors formed a search committee to replace him. Out of 10 candidates for the job, the one female who applied was Derks, and she got the job.
Thinking back to the year-long interview process, Derks said the board of directors at the time was comprised of 34 men. Her father purposely excused himself from the rounds of interviews so as not to sway any decisions. "I credit those men for seeing past gender and recognizing the passion and talent I could bring to the job," she noted.
And passion and talent she brought. Now, 22 years later, Derks recently announced a 12-month transition into retirement, with the official date being May 2019. History is repeating itself, and a search committee has been formed to identify the association's next executive leader, who will be formally introduced in March 2019 at the 62nd annual AEA International Convention & Trade Show in Palm Springs, with nearly 2,000 avionics professionals expected in attendance.
Looking back over her career, Derks offers this, "When young women ask my advice today, I always tell them you must have faith in yourself before anyone else will have faith in you. This may sound cliché, but it is true: Through hard work and determination you can succeed."
To learn more about the AEA and discover how this international organization is so vital to the Lee's Summit community,
visit aea.net.