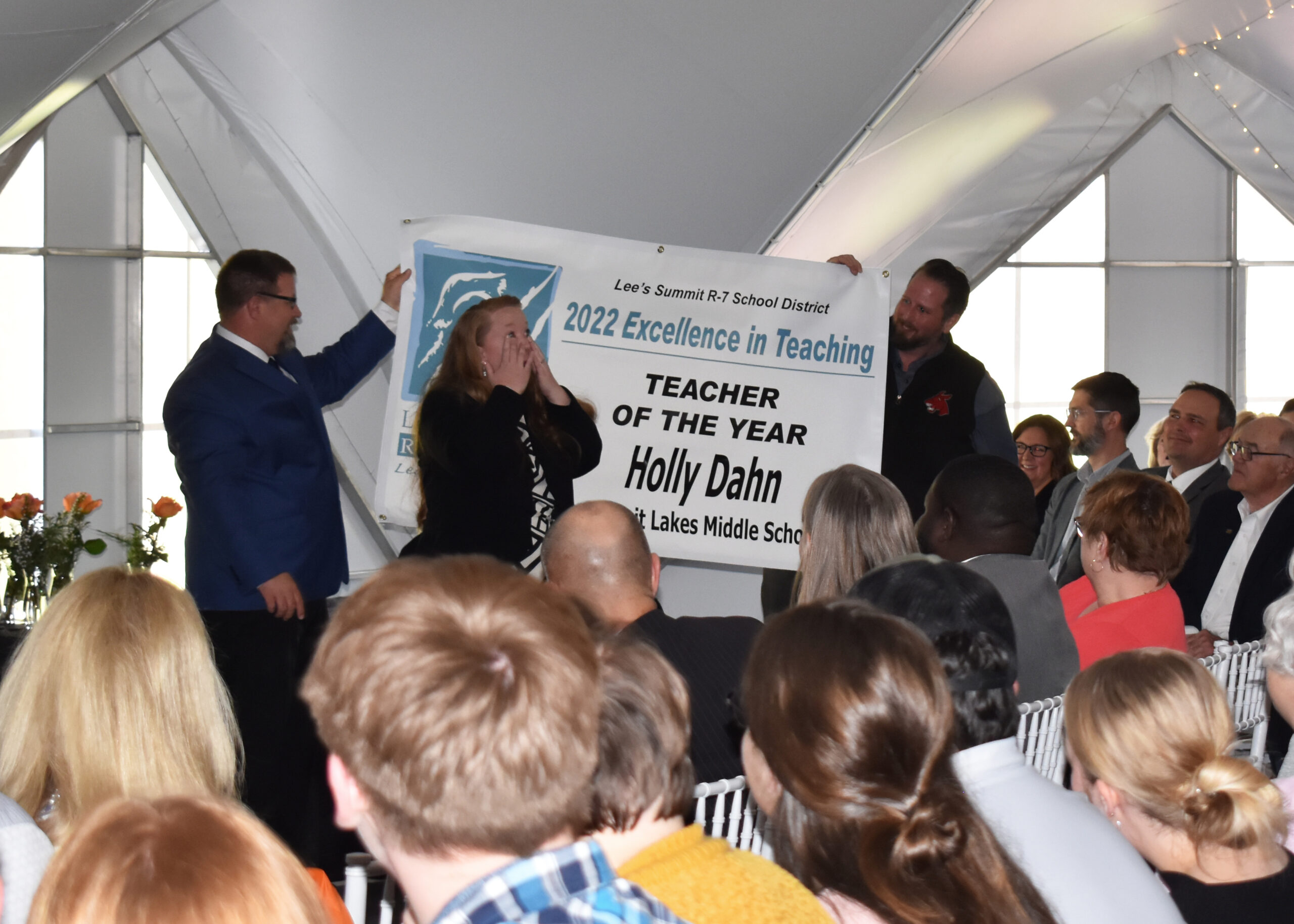 Wednesday, April 13, The Lee's Summit R-7 School District announced the
LSR7 2022 Teacher of the Year
is
Mrs. Holly Dahn
, vocal music educator at Summit Lakes Middle School.
Mrs. Dahn has spent the entirety of her 19 years in education at the Lee's Summit School District all after growing up and attending Lee's Summit Schools.
Mrs. Dahn has brought her love of music to seven schools in the district, starting in elementary education before switching to middle schools in Fall 2011. She's said she relies on building relationships and establishing a positive learning environment for her students in order to be an effective teacher.
"This foundation allows students the safe space to gain confidence, create, dream, imagine, explore and belong in my music classroom," Dahn said. "I believe the process of learning through music mirrors the process of learning about life."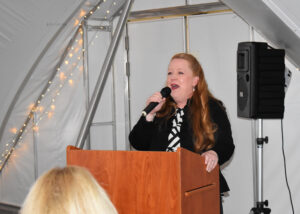 A committee selected Mrs. Dahn out of a pool of 15 candidates, all recipients of the Lee's Summit Chamber of Commerce Excellence in Teaching and Teacher of Distinction awards.
"Mrs. Dahn's dedication to her students and community go above and beyond and exemplifies why she's Teacher of the Year," said Chamber member Monte Stull. "She's worked to not only create lifelong learning in the classroom, but engaged citizens making a positive impact on the world around them."
In addition to her 2022 Excellence in Teaching award, Mrs. Dahn was nominated for the Grammy Music Educator Award in 2019, a three-time recipient of the LSR7 PEAK Grant award and the inspired educator award in 2009. She's been nominated for LSR7 Excellence in Teaching twice before, in 2013 and 2019.
History of the Award
Approximately 30 years ago, the Chamber of Commerce and the R-7 School District ran separate recognition programs, the Chamber honoring teachers for Excellence In Teaching and the District selecting a Teacher of the Year each year.  Along the way, amid partnering conversations, it made sense to combine the programs, having the Excellence In Teaching recipients become the finalists for Teacher of the Year.
Once an educator has received the Excellence In Teaching Award, he/she may not win it again.  However, having won the award, should that teacher be nominated again by a student, co-worker, parent or patron, he/she may go on to be selected as a Teacher of Distinction and interview once again for Teacher of the Year.  This year, we have three Teachers of Distinction. Once an educator has received the Teacher of Distinction Award he/she may not win it again.
This year's 12 Excellence In Teaching recipients will receive a proclamation from our state legislators, a beautiful plaque and a $200 grant to be used for classroom supplies.  The grants are funded through the generosity of Paradise Park owners Jon and Juli Ellis, long-time friends of R-7 education, and are awarded in honor of Dr. Bud Hertzog, local businessman and former R-7 Board of Education member, legislator and involved community member.
This year's Teacher of the Year will receive a $100 award funded by the Loren Paulson family in honor of Cathy Paulson.  Cathy loved education and for years provided a gift anonymously to the Teacher of the Year.  When Cathy passed away, her husband Loren and daughters Terra, Tiffany and Toni decided to perpetuate Cathy's generosity by establishing the Cathy Paulson Heart to Heart fund through the Lee's Summit Educational Foundation to honor each year's Teacher of the Year.
The R-7 School District is grateful to the Lee's Summit Chamber of Commerce, the Lee's Summit Educational Foundation, The Longview Mansion, Pearce Photo,  Licata's Flowers, and the Loren Paulson family for their continued support and generosity.