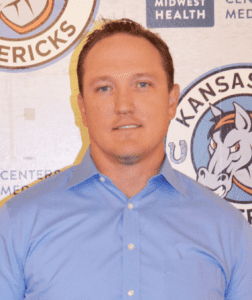 Growing up playing ice hockey since he was three years old in Colorado, it is really no surprise that Brent Thiessen is passionate about what he does. Having been the President and General Manager of the Mavericks for nine seasons, Thiessen is looking forward to their 10th anniversary season that they are calling the "Year of the Fans." During this anniversary year they have a lot to celebrate: their fans, the evolution of the team, and hopefully winning an ECHL championship!
Thiessen's father played professional hockey in Canada which started his love for the sport early on. Later, the family moved to Denver where Thiessen played hockey and picked up an additional sport, football.
Thiessen specifically chose a division three school, Lake Forrest College (north of Chicago), in order to play both hockey and football. When the football coach asked him to quit hockey in order to be their starting quarterback, he declined and went back to Northern Colorado where he started a collegiate club hockey team while playing football.
Starting a collegiate club team from scratch was no small undertaking. While working on his finance degree, Thiessen was also working on every aspect of building a team. Creating a budget, raising support, recruiting players, finding facilities, creating uniforms, recruiting sponsors, getting the club associated with a league"¦and everything else that makes a team work. Thiessen's efforts were successful and this Northern Colorado club team is still thriving today.
Thiessen went on to help start the Colorado Eagles team that once played in the ECHL and is now an American Hockey League team. Next, following the NHL strike, Thiessen received a call from the Colorado Avalanche to start a new franchise. After the Avalanche, he had one more move to work with a NHL team in Florida before he landed in Missouri to work on developing the Missouri Mavericks (now the Kansas City Mavericks).
Thiessen understands that the future of hockey of course lies in our youth. "We want to do as much as we can to tie players and our youth together," said Thiessen. Try Hockey for Free Day is a national event organized by USA Hockey in which the KC Mavericks host local kids. Set up like a clinic, it gives youth a chance to try out ice skates and get a hockey stick in their hands. Another program they host is the Junior Mavs youth travel teams. Junior Mavs is a part of KC Youth Hockey Association, with multiple age groups learning and playing hockey regionally. "The more we have families ice skating, enjoying watching the game, and building interest in playing "" the more hockey can grow in Kansas City."
The Silverstein Eye Centers Arena was built with professional hockey intended as the primary tenant, but also available to the City of Independence as a multi-use venue for concerts, events, and other teams throughout the year. The community ice center is open to the public for ice skating and group events, but also utilized as the practice facility for the Mavericks team.
"I'm excited to be here. I'm proud of this facility and the ongoing upgrades happening long-term," says Thiessen. All planned upgrades are to increase the fan and audience experience overall. Things to come are Wi-Fi in the building, LED lighting upgrades, and improved screen boards. "These things seem simple or basic "" but they will make the experience so much better. Upgraded Wi-Fi is essential so that people can engage on social media while they are at a game. New lights will allow us to change the atmosphere at the switch."
While many Kansas City citizens are not native to the sport of hockey, Thiessen is hoping to show citizens that Mavericks games are a fun experience to be had by all. If hockey happens to be your thing, you will not be disappointed either "" this is high quality hockey.
Brent, his wife and their four kids have settled well into the Kansas City Metro area. Their oldest son plays soccer for William Jewel College, one daughter played AAA hockey in St. Louis for a while but is now focusing on school, and the youngest two are still at home: a girl in 7th grade and a boy in 5th grade. They enjoy busy family time traveling all over for soccer games mostly.
When asked what Brent thinks of Kansas City he had this to say, "Kansas City is such a great place to raise a family. We've been fortunate to move around some and experience other places, but this really is a great place to establish roots." Brent has also been impressed by the generosity of Kansas City citizens. No matter the event, they've seen how everyone steps up and is generous to support this community.