Starting a business alone is hard work, but throw in family dynamics and it's a whole other ball game. A healthy business climate and ever-growing workforce has stayed constant in Lee's Summit, leading to the success of many businesses over the years, but also paving the way for the next generation to take businesses to new heights. As we dug into the fertile Lee's Summit business ground, it didn't take long to discover that there is a long list of multi-generational businesses in our community. While we weren't able to feature them all, we are proud to share a portion of these hardworking Chamber members and the stories of how they built their businesses alongside family.
Edward Jones: Mark and Brian Sandy
The world of finance sparked interest in Mark Sandy at an early age, as his uncle was an advisor with Edward Jones in Columbia, MO. While Mark studied at Longview Metropolitian Community College, he ran a vending route. His daily stops included the Board of Trade building on the Country Club Plaza. "I was always intrigued by everything that was happening and just wanted to talk business with them," Sandy said.
In 1983, Mark went through his Edward Jones training at the same building in downtown Lee's Summit that his office has come back to today. "We shared a four-person office in approximately 600 square feet. We now occupy the same space in the building with approximately 3,000 square feet."
After 30 years of having his office in Raytown, Mark came back to Lee's
Summit in 2017 with his son Brian as part of the team. Brian is the youngest of Mark's three sons, each with their own skills, and Brian's are fitting to work in financial planning. Brian got his degree in business finance and economics and then took some time to be active in the military. Once exiting the U.S. Army, he got his masters in commercial real estate and worked in the industry awhile but decided that it just didn't allow him to build deep and lasting relationships with people.
"Financial planning actually allows me to use my number-based education and experience and combine it with people. I wanted to be able to grow relationships and work with people long-term," said Brian.
As father and son in the office, they get along very well (and are eerily similar) but each has his own book of business. There is no hierarchy or shared clients, so Brian doesn't "˜work for dad' but they will talk business to get different views on the market, or pencil in lunch just to talk. Their multi-generation business can give a different level of  confidence to the people they work with. Mark and Brian are able to combine experience and education to really approach financial planning and the market in new ways together.
Coming back to downtown Lee's Summit really brings them full circle, and they both live in Lee's Summit. "We love the energy down here and our clients and staff feel it too."
Weed Man: Jon & Vicky Cundiff and Cam & Brandon Cundiff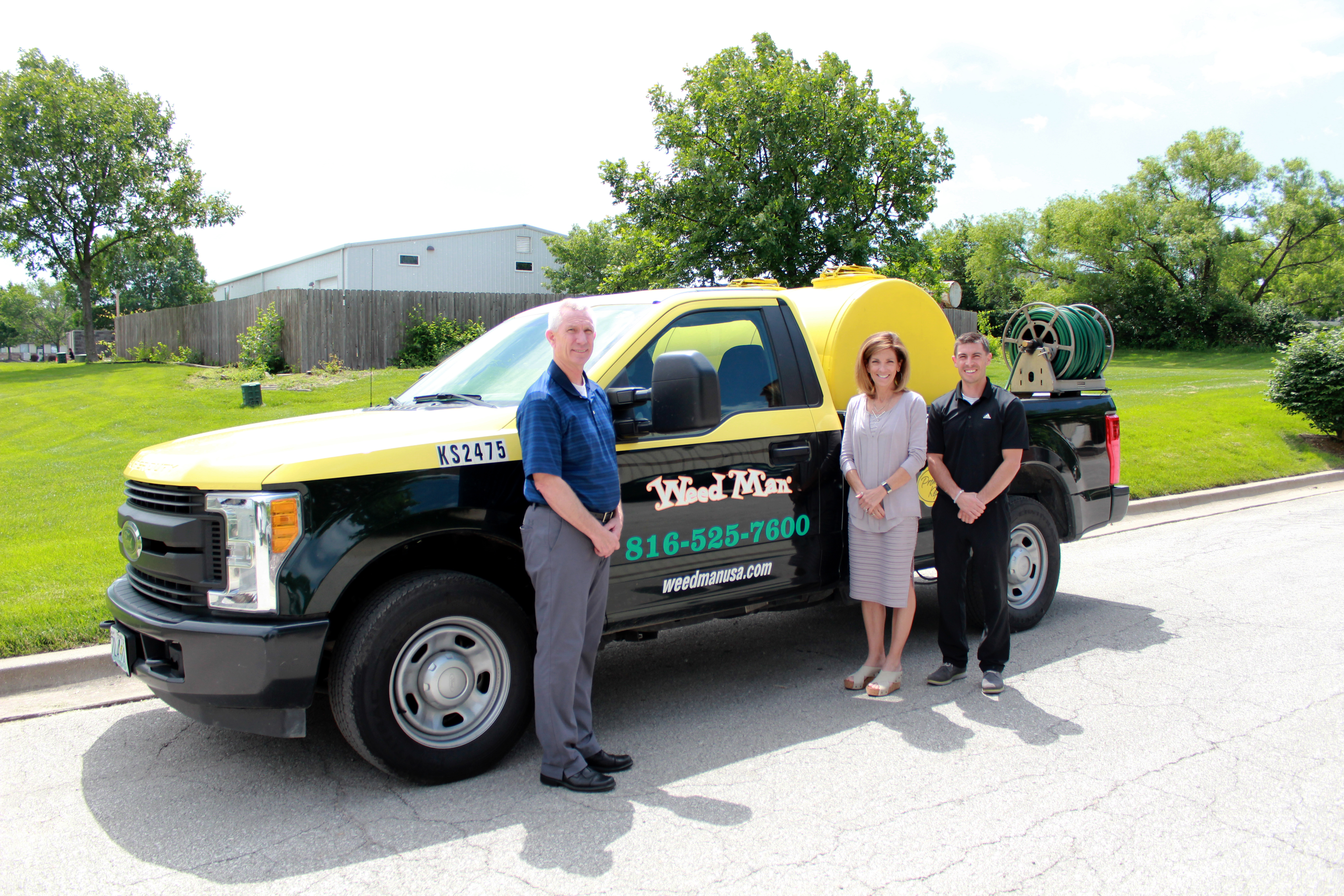 Jon and Vicky Cundiff started Turfs Up in the spare bedroom of their Lee's Summit home in 1987 as an entrepreneurial dream. Thirty two years later, they have evolved into the multi-generational family
business known as Weed Man.
Taking from Jon's experience manicuring the Royals and Chiefs stadiums, combined with Vicky's college degree in business management and data processing, they had the drive to start their own business. While the focus was on lawn care, they often added in services to ensure year-round business such as leaf cleanup, wood delivery, and Christmas light installation. It was a small business they were determined to grow and support the employees they brought on.
In 2000, the Cundiffs decided to partner with the Canadian company, Weed Man, and become the first U.S. sub franchisor. As husband and wife working in their business with a young family, they would deliberately shut off business talk by 5:30 p.m. to focus on the kids'Â  activities and just being a family at home.
Living in Lee's Summit, they knew it was where the business would start, grow, and stay. The Cundiffs have now lived here for thirty five years and franchised Weed Man in seven states. "We felt completely blessed for what Weed Man has done for our family and we wanted to help other families begin a new franchise business for their own family to grow within as well," said Vicky.
At age 15, Jon and Vicky's son, Cam, began working all sides of the business. Whether door-knocking, in the field for lawn treatments, or in the office selling "" he learned the full scope of what the business was. Determined he would find his own role in the workforce, Cam went to school for business accounting and started working with other companies.
Cam decided accounting in an office was not his favorite role but he explained, "I didn't want a job my parents are just handing me." Jon and Vicky made it clear that they would not just give him a job but that his experience, knowledge, and energy was perfect for what they needed in the company overall.
After a trip to corporate Weed Man in Canada, something clicked with Cam and he understood and saw many new aspects of the business that he never realized before. It was much more than lawn care. He is now the general manager over four locations including Kansas City, Fort Worth, Des Moines and Springfield.
Brandon is their other son, rounding out the family of four, who was also
determined to do his own thing.  Brandon had a successful engineering career until eventually the family schmoozed him enough to join the Weed Man team.
He began in January of this year to run operations in Texas, with the goal of expanding into the Dallas metro area.
It is a fast-moving business and each of them has a unique understanding of how to use technology in the business. Together, the generations have totally different ways of thinking and seeing new perspectives for growth.
Cameron's Home Furnishings, Steve & Sue Tominia, Amy Robertson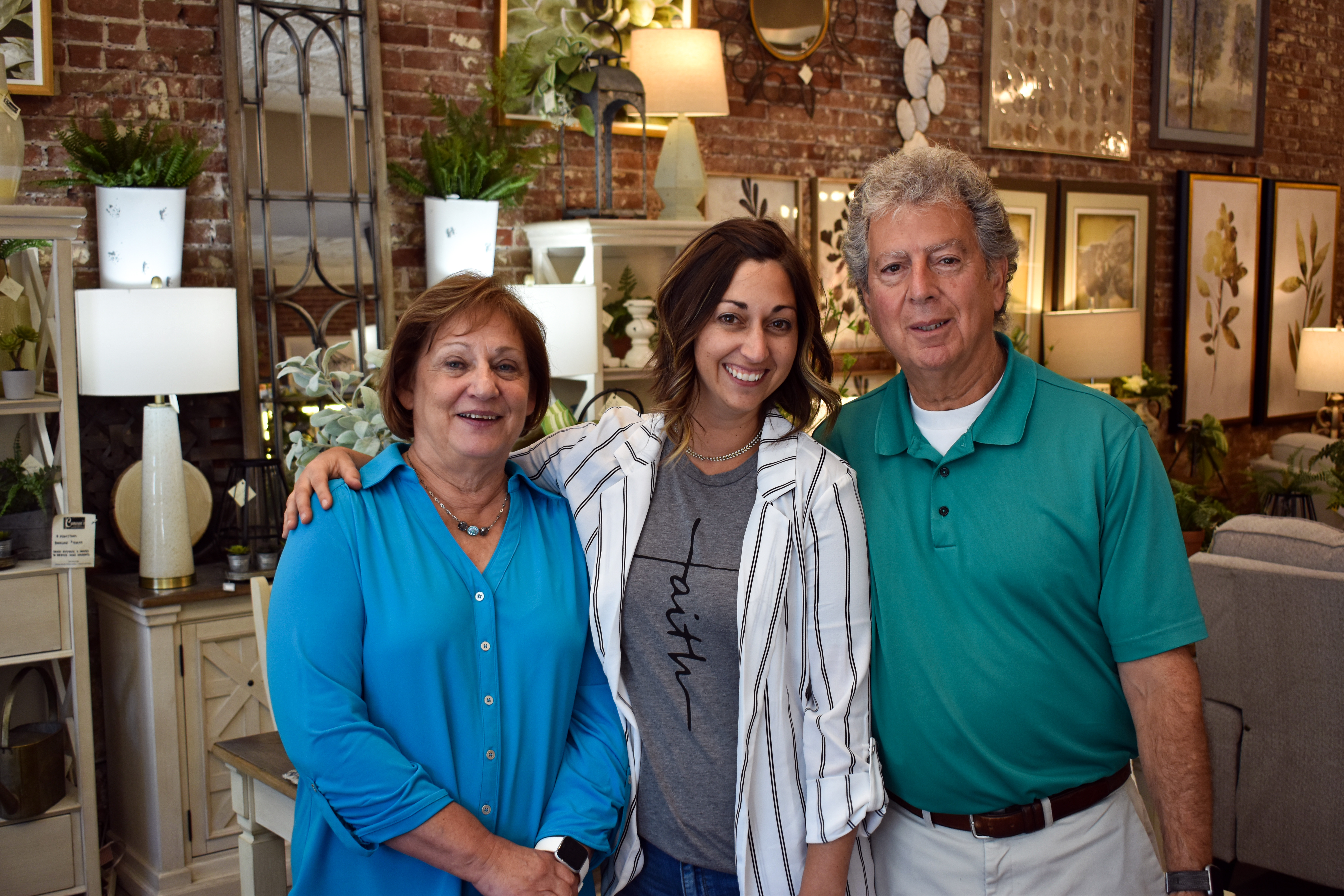 After working with Cameron's Home Furnishings for a few years, Amy and her family decided to purchase the downtown Lee's Summit business in 2001. While not always the case, the daughter and parent trio now all work together in the business daily. Amy is the buyer for all the trending furnishings and home accessories, Sue is the visionary and peace-keeper who customizes pieces, and Steve is the muscle, handling all the deliveries and finances.
Douglas Tire & Automotive, Bill Oades Sr, Billy & Jimmy Oades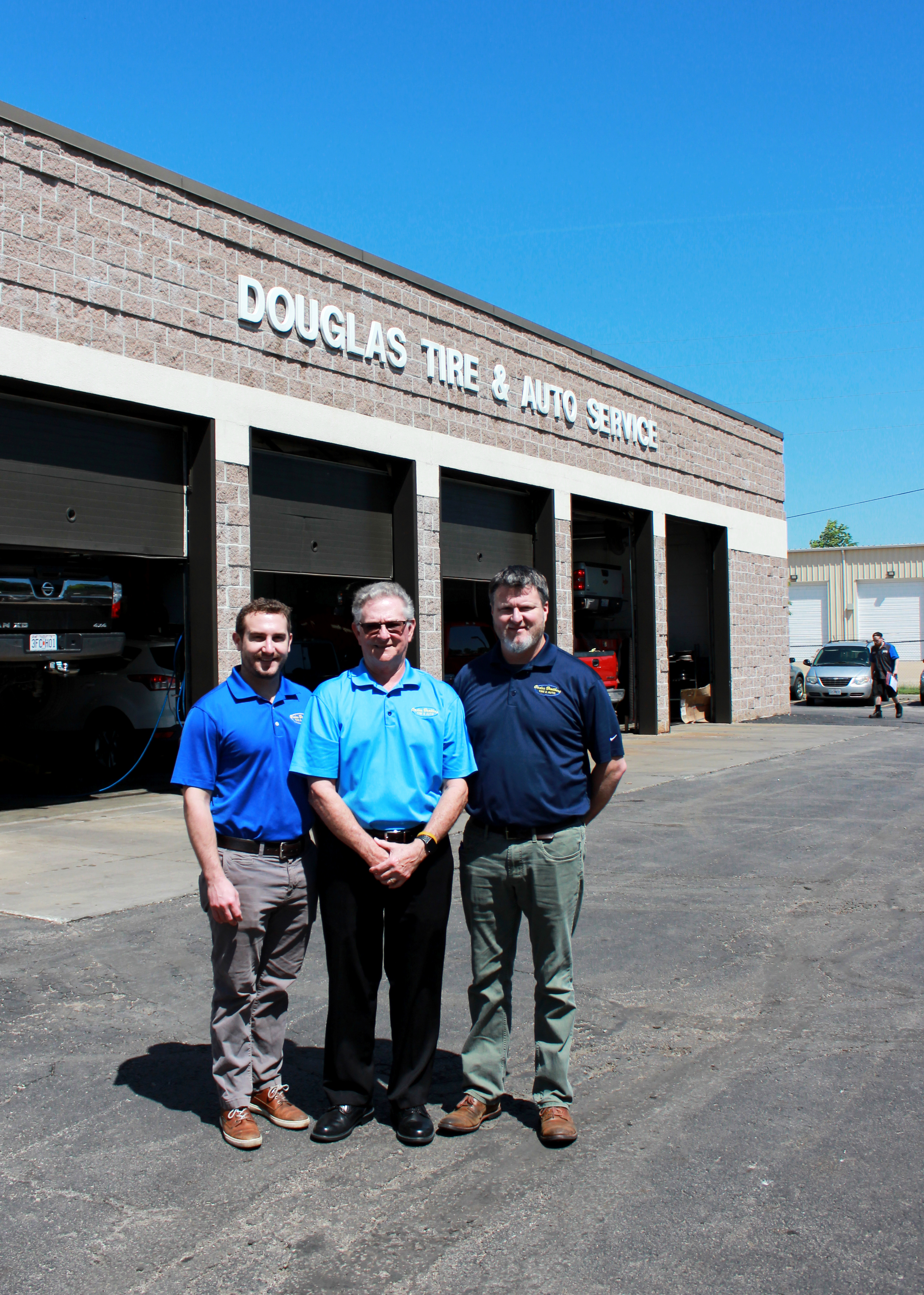 Proud to be a family-owned and operated business in the KC Metro area, father, Bill Oades, Senior opened the first store in 1987. After graduating college from Rockhurst in 1972, Bill worked with Mobile Oil Corp. for 16 years as resale and marketer for auto repair and gas.
Moving on from that career, he was encouraged to open his own shop in Kansas City, KS. Since then they have expanded and have three metro stores, including the Lee's Summit location: Douglas Tire and Auto that was built to open in June 2003. "Lee's Summit was already a great, growing community then that we really wanted to be a part of," said Bill.
It has always been a family business in which all six of the Oades kids have been a part of and worked within to some capacity over the years. The youngest son, Jimmy, graduated with a degree in finance and decided to stay with the family business working as bookkeeper and customer service. Today, Jimmy is the on-site owner and face of the Lee's Summit location.
A couple years after Jimmy, older brother Billy came on to help manage their Overland Park location. Billy also helped add a third location (in Overland Park) in 2015. Bill says, "we really feel like having the on-site ownership builds our local reputation as being compassionate and sincere." You can reach someone who genuinely cares about the issue you are dealing with at any time that you need.
The multi-generation dynamic has really affected our business technology wise. Meaning, newer generations are so social and online savvy that Jimmy and Billy really understand the influence that online reviews have for example. People today will read through the 2-300 reviews that we have online before making the decision to do business with the Oades. It makes for a great combination of how to run the business and deal with customers.
With six kids, six in-laws, and 19 grandkids (all in the KC area), it's a big family that definitely keeps business separate. "We make efforts to get as many together as possible at least once a month "" and we don't talk about business," stated Bill Sr.
Nationwide Insurance, Tim & Tyler Morehead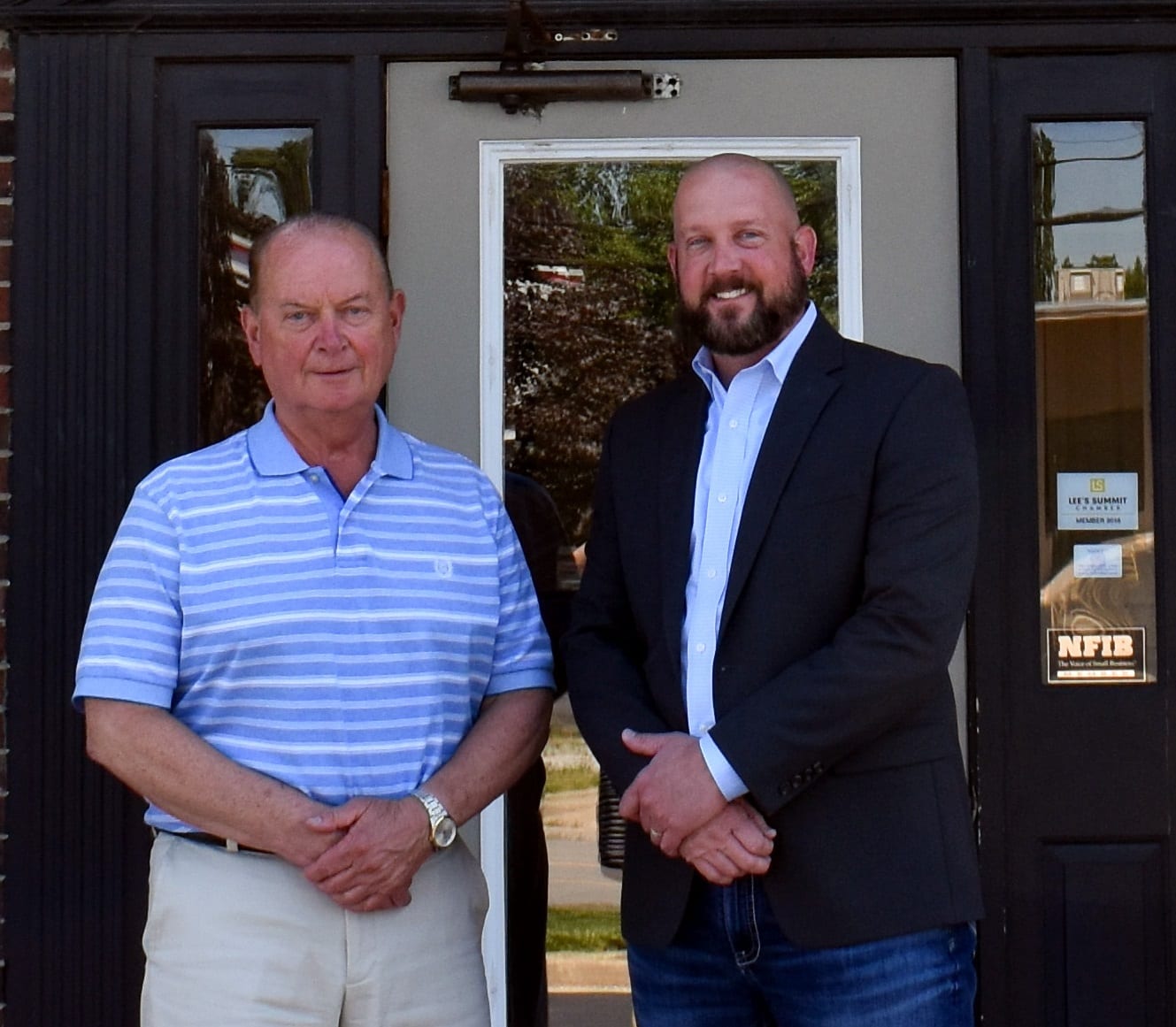 Tim started the Morehead (insurance) Agency in August of 2005 with son Tyler joining him in March of 2006. They've stayed in the same location just outside of Downtown Lee's Summit since 2005. While they started exclusively as Nationwide, over the last few years have become more diverse to represent a handful of other companies as insurance brokers.
Tim and Tyler spend each day working to retain current customers by devoting as much time as possible with face-to-face interaction. Sadly, today's growing digital environment doesn't bode well for face-to-face relationships with business clients. The Moreheads can be seen out and about in the community, effectively working on their business while supporting local organizations, including the Lee's Summit Chamber, Parks & Recreation and others.
Budget Blinds: Gloria Guthrie, Jim & Debbie Stoddard, Courtney Laufketter-Stoddard & Taylor Stoddard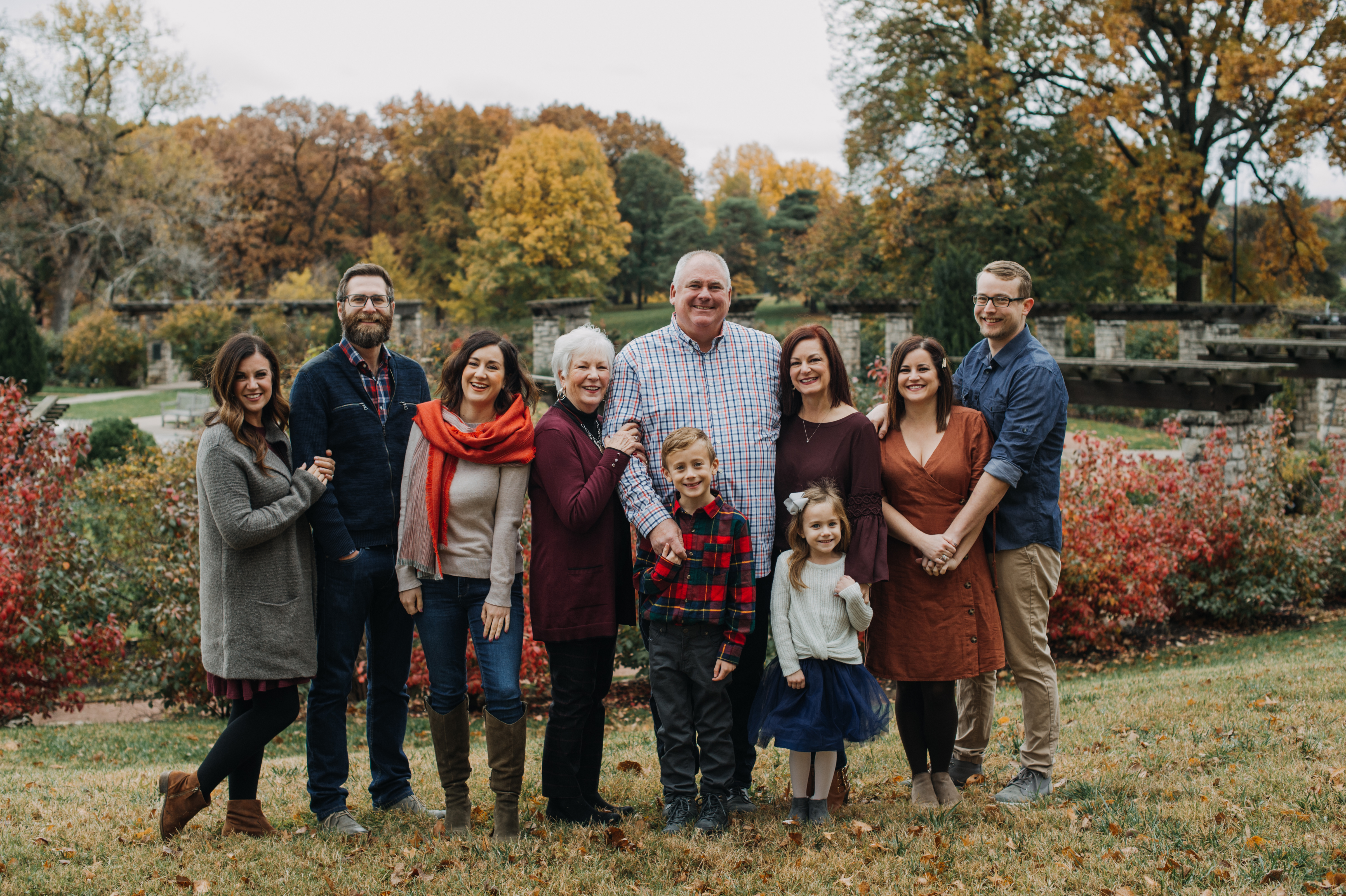 The full Stoddard family is involved in Budget Blinds. Gloria Guthrie, grandmother, along with Jim and Debbie Stoddard are the owners of the multi-generational, downtown Lee's Summit business. Daughters Courtney and Taylor are the third generation active in the business. Courtney acts as VP of regional sales while Taylor is a design consultant. Beyond that, even the spouses and fourth generation get involved by assisting with installs, deliveries, box moving, and whatever the family needs.